Managing cables for all your devices has another solution on the way
10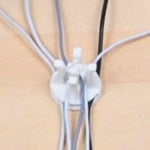 If you are anything like us, then you have more than
one or two three or four
five or six gadgets nearby that you use regularly and like to keep charged.
That also means it is quite likely that you have more than a few cables for your computer(s), tablet(s) and smartphone(s) snaking their way along your desk or counter top. There are lots of ways to get the wires to "behave" and not get in the way of everything or slide away when you unplug your devices.
Many of us use zip-ties or twist-ties to work through cable clutter but every now and again, a simple, but purpose built design comes along offers a solution without having to corral the cables in the first place. That solution is called the "Snable."
This project by a small design firm in Houston, Texas called Unique Design Solutions, put some thought and science behind this seemingly innocuous looking product. It creates usable channels to place and keep cables without them being put in a tension lock. That comes in handy as you can still manipulate your gear while using it.
The Snable can be put anywhere too, it comes with a reusable sticky pad that cleans simply by rinsing it under water. You can also screw a Snable permanently into place if you want. The Snable will also serve as a spool for your cables if you are on the go, containing clutter even when you are not at your normal place of work or play.
The project is on Kickstarter now. Snable will be available in either black or white. Early backers will get three Snables for $15 which includes free shipping in the US. International shipping is available for $8 more. If UDS reaches its $16,850 goal, you will get your Snables by July. With 30 days to go with funding, UDS is a little over one-third towards reaching their goal. Check out the video below and if you want your own set of Snables, click the source link to get on board with the project.
source:
Snable
(Kickstarter)