Man steals smartphone, gets hit by bus, suffers only minor injuries and is arrested
68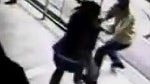 It shows that electronic device theft is a growing problem in all corners of the globe. In this case, it is karma of the highest order. In Bogota, Colombia, a thief sets the stage for a quick swipe and get-away.
He flips a lever which opens the doors to the station platform before the bus arrives, the idea being that the open doors will assist in his rapid escape after snatching the device from his would-be victim's hands. Had his victim not resisted, his plan might have worked.
Those few seconds she held on to her device made the difference. Once he wrested the phone from her hands, he lunged for his get-away, only it was too late and just as he was about to leap off the platform, the incoming bus takes him down for the count.
Amazingly, he suffered only minor injuries and was ultimately arrested, along with some accomplices shortly thereafter. Perhaps it is no surprise that thief has a history of this type of behavior. The lady got her phone back. For those that are wondering, the date on the camera was not properly programmed, this incident took place earlier this month.
source:
BBC
via
LiveLeak