Machinarium for Android hands-on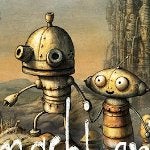 Surely taking its time, the popular indie adventure puzzle game
Machinarium
has
finally arrived for Android
. Although it's technically not a new game, especially when it first arrived on the PC a while ago with an iOS version later on, it's nevertheless here now for the taking at
$3.99
through the Google Play Store. So if you love robots and puzzles, you'll surely appreciate all of the fun you'll find in Machinarium.
Rather than tantalizing us with some kind of 3D graphics, Machinarium relies on
2D visuals combined with puzzle elements to enthrall gamers
. Honestly, the world of Machinarium has an apparent
steam punk characteristic
to it, as each stage is filled with crazy machinery. There's no spoken dialog whatsoever in the game, but rather, everything is conveyed through pictures and the actions of our star – a clever little robot called
Josef
.
Be warned folks, there is a
high level of difficulty
with Machinarium, especially in the later stages as the puzzles become more complex. Luckily, for those of us who are a bit slower in solving them, we're at least given one hint for each stage. Still, we find ourselves scratching our heads at times or feverishly tapping on something in the environment to interact with it – in the hopes of solving each stage. So yeah, the pace of the game might scare off traditional action gamers who are more accustomed to a run and gun type of deal.
Overall, there's a lot of value with Machinarium, even more when it's priced modestly at $3.99 right now. The artistic presentation and puzzle solving aspects of Machinarium undoubtedly stands out, but as we've said already, it's only the most diehard puzzle solvers that will be able to complete the game from start to finish.