MMS support and Bluetooth transfer expected with iPhone OS 3.1?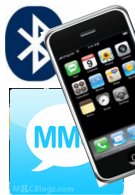 Apple iPhone owners have been waiting patiently for the promised MMS support – even with summer already winding down and fall just knocking on our doors. For those who are itching for the day to arrive, AT&T is hinting to a possible release of iPhone OS
3.1
as soon as later this month. It's speculated that the update will deliver MMS messaging which has been a major feature that is still not supported. In addition, Bluetooth file transfer is also expected to come out of the update. In the mean time, it looks like we'll have to wait until the middle of next week, September 9, to hear any confirmation. Apple plans on talking to the public and industry on how it plans to improve its iPod products. With Microsoft already setting the stage to have Windows Mobile 6.5 up and running, Apple may take the spotlight away from them with an announcement.
source:
9to5Mac