MIT researchers create do-it-yourself mobile phone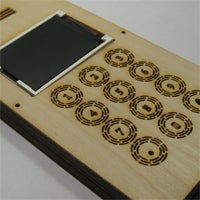 You consider yourself a do-it-yourselfer. You change your own oil, paint your own house, build your own computers, but have you ever considered building your own cellphone? Thanks to researchers at MIT, now you can.
The DIY phone uses open-source designs for both the phone's circuit board and case. Currently it only supports voice calls, but MIT noted that SMS and other features could be added while still using the same hardware. The prototype uses a custom circuit board inside a laser-cut plywood and veneer case. The parts for all of this run about $150.
So what about the specs? MIT said, "The phone accepts a standard SIM card and works with any GSM provider. Cellular connectivity is provided by the SM5100B GSM Module, available from SparkFun Electronics. The display is a color 1.8″, 160×128
pixel
, TFT screen on a breakout board from Adafruit Industries." We also noticed that in the photos, the screen reads "Number please" when its ready to be used. How polite!
As far as design, we must say, it's no touchscreen, high-end smartphone, but it looks pretty cool. Apparently the holes you see around each number allow the veneer to flex enough to press the button underneath.
Oddly enough there was no mention of our DIY smartphone. As you may remember back on April 1st, we here at PhoneArena
showed you how to make your own smartphone
complete with analogue, pen and paper driven Angry Birds!
In all seriousness though, this is a very neat project that makes a DIY mobile phone a realistic and obtainable goal.
"(W)e hope to encourage a proliferation of personalized and diverse mobile phones. Freed from the constraints of mass production, we plan to explore diverse materials, shapes, and functions. We hope that the project will help us explore and expand the limits of do-it-yourself (DIY) practice," MIT said.