Lumia 950 and 950 XL listings hit Microsoft Store, but aren't available for purchase yet
16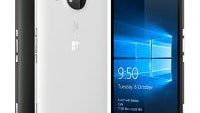 The Microsoft Lumia 950 and Lumia 950 XL are getting closer and closer, but still aren't quite here just yet. Both of the devices finally have official landing pages on the Microsoft Store website and, but are not available for purchase. Though, the pages are offering email notifications to those who are interested.
The Lumia 950 XL page is for the unlocked version of the phone, but the Lunia 950 has two different pages - one for the unlocked model and one for the AT&T model. The phone specs all match up with what we expect. The 950 XL has the larger display and slightly faster Snapdragon 810 compared to the 808 of the 950. You'll be getting the killer camera and everything.
Although, on the camera side of things, there is one oddity to note: under "General Security Features", it lists the devices as Windows Hello
Ready
. That word "ready" is a bit strange because it carries the implication that the feature won't be available when the devices are released and may require a software update afterwards to enable.
Anyone out there planning to buy one of these when they do become available?