Liveblog: Apple's announcement of the iPad Air 2 and iPad mini 3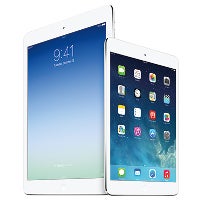 Apple's announcement schedule has been pretty easy to follow these last few years. The company unveils its new iPhone/s in the beginning of fall, and it follows up with its iPad event about a month or a month and a half later. It seems 2014 won't be much different for the company. Following the September 9 introduction of the
iPhone 6
and 6 Plus, Apple has now called for a new gathering, which will take place at its headquarters today. The tagline of the event: "It's been way too long", doesn't ring too many bells, but with yesterday's big leaks, it's safe to say that Apple is gearing up to announce its new iPad Air 2, and iPad mini 3, along with some new Mac computers.
As always, we're going to be liveblogging the event for you, so that you can get all the latest details about the company's newest tablet endeavors as soon as they arrive. Just be sure to visit this post again at the times listed below!
Meanwhile, it might be a good idea to go through our
iPad 2014 rumor round-up
one more time, in order to get up to speed before the event has begun!
EVENT START TIME: 10 AM PT | 11 AM MT | 12 PM CT | 1 PM ET | 5 PM GMT | 7 PM CET
Live event tracker
| | |
| --- | --- |
| 13:21 | It's a wrap, guys, but stay tuned to PhoneArena, as we'll have tons of coverage coming up about the new iPads! |
| 13:20 | |
| 13:20 | Before wrapping things up, Tim is using this last chance to talk up the upcoming Apple Watch, and to thank all the Apple teams. |
| 13:18 | "This is the strongest lineup of products that Apple has ever had," say CEO Tim Cook. |
| 13:17 | The new Mac Mini is shipping today. And really sounds like a pretty good deal. |
| 13:16 | Small on the outside - HUGE on the outside! 4th gen Intel CPU, Thunderbolt 2 and more - for just $499! |
| 13:16 | And here comes the new Mac Mini!!! |
| 13:15 | Now, onto pricing. Phil argues that current high-quality 4K displays cost about ~$3000. iMac 27 with Retina comes with $2500. |
| 13:12 | Apple is now rolling a video to promote the new iMac with Retina display. |
| 13:09 | A new material, Oxide TFT, had to be created in order to make it possible to drive such a high-resolution display. |
| 13:08 | |
| 13:08 | The new iMac comes with the so-called Retina 5K display - 7x more pixels than 1080p. |
| 13:07 | 5120 x 2880 pixels of screen resolutions in the new iMac! That's one dangerously dense display. |
| 13:06 | And the new iMac! Yes, as expected, there's an iMac with Retina display. |
| 13:06 | Talking up the current Macbook Air and Pro, Phil is now ready to introduce the new Macbook laptops! |
| 13:04 | Now, onto the Mac! |
| 13:04 | |
| 13:04 | Pre-orders are starting on October 17 - shipping by the end of next week. |
| 13:03 | Original iPad mini will now be available at $249! Nice. |
| 13:03 | Nothing really special mentioned about the new mini - it's gating the same updates, and keeping the same price. |
| 13:02 | And here comes the update to the iPad mini! |
| 13:02 | |
| 13:02 | |
| 13:01 | Phil is back, to wrap up the iPad Air 2 introduction: new Retina Display, A8X chip, better iSight camera, Touch ID and more! |
| 12:59 | Replay automatically combines multiple related videos to create a single, fancy video, complete with music and transitions. |
| 12:57 | |
| 12:57 | Next, Phil is highlighting Replay - a video-editing application for the iPad. |
| 12:56 | Pixelmator is a photo-editing application with some really clever tools inside. At least so it seems from this demo. |
| 12:55 | Now, developers from the app Pixelmator have come out to talk about the new version of their app. |
| 12:54 | Phil uses this occasion to mention the synergy between the Touch ID sensor and Apple Pay. Secure online purchases made easy! |
| 12:53 | |
| 12:53 | Improved Wi-Fi, and faster LTE are also making their way to the latest iPad. And so is the Touch ID fingerprint sensor! |
| 12:52 | |
| 12:52 | Of course, slow-motion videos will also be recordable with the iPad Air 2's cam. A new FaceTime HD camera will also be available. |
| 12:51 | Panorama, Burst, and Time-lapse camera modes are coming with the new camera. Hopefully that of the first iPad Air will also get them. |
| 12:50 | Here's a sample photo allegedly taken with the new iPad. |
| 12:50 | 8MP iSight camera, F2.4 aperture, 1080p video support - there are the characteristics of the iPad Air 2's camera. |
| 12:49 | |
| 12:48 | "The iPad is the best viewfinder", says Phil. |
| 12:47 | Apparently, battery life will be similar to before - Apple once again rates it at 10 hours. |
| 12:47 | A8X will be the chipset inside the iPad Air 2 - 3 billion transistors, 40% faster CPU, 2.5x faster GPU. |
| 12:46 | |
| 12:45 | The new screen will be 56% less reflective than before, improving outdoor visibility. |
| 12:45 | |
| 12:44 | Here's a comparison between the original iPad, and the iPad Air 2. |
| 12:43 | 6.1mm! |
| 12:43 | Phil Schiller is coming on stage to introduce the iPad Air 2 to us. |
| 12:43 | |
| 12:42 | But cut almost half of that pen, and you get the iPad Air 2! |
| 12:42 | |