Liveblog: Apple's announcement of the iPad Air 2 and iPad mini 3
22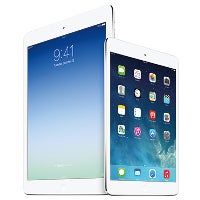 Apple's announcement schedule has been pretty easy to follow these last few years. The company unveils its new iPhone/s in the beginning of fall, and it follows up with its iPad event about a month or a month and a half later. It seems 2014 won't be much different for the company. Following the September 9 introduction of the iPhone 6 and 6 Plus, Apple has now called for a new gathering, which will take place at its headquarters today. The tagline of the event: "It's been way too long", doesn't ring too many bells, but with yesterday's big leaks, it's safe to say that Apple is gearing up to announce its new iPad Air 2, and iPad mini 3, along with some new Mac computers.
As always, we're going to be liveblogging the event for you, so that you can get all the latest details about the company's newest tablet endeavors as soon as they arrive. Just be sure to visit this post again at the times listed below!
Meanwhile, it might be a good idea to go through our
iPad 2014 rumor round-up
one more time, in order to get up to speed before the event has begun!
EVENT START TIME: 10 AM PT | 11 AM MT | 12 PM CT | 1 PM ET | 5 PM GMT | 7 PM CET