Live: Microsoft's launch of Windows 8
23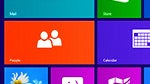 This year's October turned out to be yet another action-packed month for mobile. First, we got the iPad mini on the 23rd, and on the 29th we'll be officially introduced to Windows Phone 8, as well as Google's next Nexus device/s. But today is a bit different. Today, we'll be witnessing the launch of Windows 8.
Typically, we don't pay so much attention to desktop operating systems, but Windows 8 is a bold step by Microsoft - a bold step that's positioning the company much, much better than before when it comes to mobile products like tablets. In fact, with the recent success of the tablet market, it's only natural for Microsoft to try and alter its main product so that it's better-suited for touchscreen use, and that's exactly what it did.
With a brand new "Modern" UI and loads of other changes, Microsoft is hoping that Windows 8 Pro and Windows RT are going to be successful competitors against Apple's iOS and Google's Android - two mobile operating systems that are increasingly taking over the mobile sector.
Join us as we're following Microsoft's official launch of Windows 8! You'll find our liveblog below, which will keep you posted about the latest developments with up-to-the-minute updates.
Event starts at
: 11:15 AM EDT | 10:15 AM CDT | 08:15 AM PDT | 05:15 PM CET | 03:15 PM GMT