Like to put your iPhone in your pocket? You need a new pair of jeans
24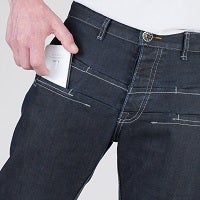 These are jeans designed with the smartphone in mind. No longer do you need to fish our device out of the regular pocket, now you can have a dedicated, microfiber lined, anti-radiation, anti-stain, V3 jeans by WTFJeans, based in Croatia.
These are geek pants filling a geek need. These pants have dedicated phone pockets set down the thigh a bit so it is easy to access your device even when you are sitting down, that alone is a nice touch.
The pockets themselves are lined with microfiber to keep your precious clean whenever you place or remove it. Then there is the anti-radiation shielding that is built to deflect the EMF waves, probably not the worst thing to have if you keep your phone stowed in the pocket all the time.
The anti-stain is not just about easy removal of ketchup from the burger you just chomped into, these jeans are woven with nano-tech anti-liquid treatment, so water, coffee, soda, whatever, just rolls right off these things. The only caveat there is the treatment will eventually wear off, but it should last for about 20 to 40 washes, a year give-or-take.
The pockets in these WTFJeans are optimized for the iPhone, but similarly sized devices may fit. The V3 jeans are wrapped in a faraday cage bag and placed in a box upon ordering. These high-tech jeans also have a high-tech price too, €127 ($175). The new V3 jeans are made in Europe, and WTFJeans ships worldwide.
WTFJeans, V3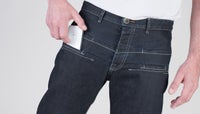 via:
Redmond Pie