LightSquared's hedge fund manager considers bankruptcy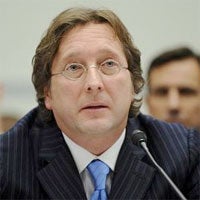 The situation over at the aspiring 4G LTE provider, LightSquared, is becoming more dire by the day. After
losing its contract with Sprint
and having its
license revoked by the FCC
, hedge fund manager Philip Falcone said he is "seriously considering" filing a voluntary bankruptcy for LightSquared.
Falcone is a part of Harbinger Capital Partners, which is the majority owner of the struggling startup. Coming off a $427 million net loss in the first 9 months of 2011, Falcone is looking at several options to salvage the company. He believes that LightSquared's spectrum assets still retain significant value; therefore a bankruptcy would not definitively wipe out the equity holders.
LightSquared currently has a $1.6 billion loan from its creditors. Reuters reports that several of the hedge fund's creditors have given Falcone until the end of the month to make a deal before they force the company into bankruptcy.
Overall, the outlook looks extremely bleak for LightSquared. While anything is possible, chances are LightSquared will be a venture of the past very soon.
source:
Reuters