Let this infographic tell you exactly how much the iPhone is worth to Apple
35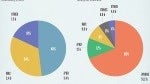 Wow, can you imagine it's been 8 years since the original iPhone was announced? It was one of those jaw-dropping moments in technological presentation history that just happen all too rarely! Anyway, there's little we can tell you about the iPhone's history that you don't already know, but here's the thing - our comrades from GadgetValuer passed us along this awesome infographic that details, in lively colors and bold text, just how much of a significance the iPhone has had on Apple's revenue over the years.
The slides will tell you how the iPhone escalated Apple's revenue, the impact the iPhone had on the stock market, the handset's opening weekend sales over the years, and other interesting facts - some of them having to do with tens of billions of dollars! The infographic uses data by trade-in monitoring websites
CompareMyMobile
and
GadgetValuer
, and apart from iPhone-related stuff, there's
other valuable things one can learn from their beautiful work
.
Check out the infographic and pour yourself one for Apple and company today if you're the drinking type, because the gang at Cupertino did create a landmark device 8 years ago!