Lenovo will lay off 3200 employees and entrust Motorola with the smartphone making, following a disappointing financial quarter
14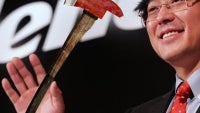 It's been a gloomy year of job cuts for the mobile industry, as the likes of BlackBerry, Microsoft, Sony, HTC, and others have embarked on "streamlining" their operations. In other words, their products don't sell in the oversaturated, complicated market of today, which reduces the need for labor and calls for downscaling business.
In Lenovo's case, the company faced "severe challenges" in its main markets — PCs, tablets, and smartphones — in the second quarter of 2015. Net income declined 51% from last year, down to US $105 million. The PC market is in decline, while growth in smartphones has slowed down amidst increased competition.
Still, Lenovo did manage to deliver solid results amidst the recession, gaining market share in the PC and tablet sectors, and driving smartphone shipments outside China up 68%. Alas, the financials didn't meet expectations, which steered the ship towards critical measures for achieving profitability and sustainable growth. As a result, Lenovo will set free 3,200 employees from its non-manufacturing workforce around the world.
The move belongs to a complex restructuring, which also aims to better leverage the complementary strengths of Lenovo and Motorola by simplifying the product portfolio with clearly-differentiated models, and relying solely on Motorola for design, development, and manufacturing of smartphones. Altogether, the cost-cutting measures will shave about $1.35 billion of expenses on an annual basis.
While Lenovo's mobile division will offload most of the product development to Moto, the parent company will be providing the sales know-how and business tactics. Lenovo is known for its direct sales approach, bypassing carriers and offering customers competitively priced unlocked phones. The strategy trickled down to Motorola, whose latest models are being sold direct, are carrier-agnostic, and boast remarkably fair prices.
source:
Lenovo