Lenovo shows off 5.5" IdeaPhone K900 with 2GHz Intel CPU
29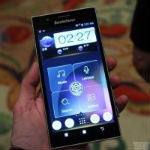 There are a few pretty nice looking devices that we've seen at CES that are going to be heading to the Chinese market, and another one for the list is the Lenovo IdeaPhone K900. It's a 5.5" smartphone/phablet that is sporting some impressive specs, and is actually one of the first phones that will come to market with Intel's new 2GHz Atom processor.
The 5.5" display will clock in at the now standard high-end resolution of 1080p, which means it has 400PPI. The chassis is built with stainless steel and polycarbonate, and will measure just 6.9mm thick, which Lenovo claims is the thinnest for its class. It sounds like Lenovo actually bought some camera lenses from Sony, because the K900 has a 13MP Sony Exmor backside illuminated sensor.
The build on display was running Android 4.1 with Lenovo's customized UI. The K900 will be available in April in China. No word on pricing or potential availability in North America.