Lenovo patents a foldable phone with a cool second screen that folds from the back
3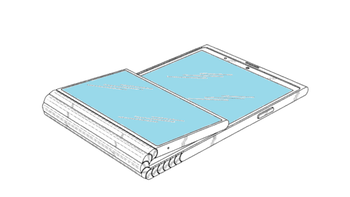 Motorola's parent, Lenovo, is apparently looking at other foldable form factors for Motorola or its own brand.
Today, the World Intellectual Property Organization (WIPO) published a patent
(via
LetsGoDigital
) received by the Chinese manufacturer last year. The patent covers a foldable clamshell with
some similarities to the Motorola RAZR patent
. The key to this phone is the flexible hinge that allows the user to fold the device in a couple of different ways. With a second screen found on the bottom rear of the phone, this screen can be folded over to cover a small part of the main flexible screen. The phone can be folded again making the device more pocketable, protecting much of the display and revealing a small part of the top of the flexible screen.
The primary camera would be found on the back of the device with a selfie snapper placed in the top bezel. A speaker is located on the top of the phone. Samsung will be the first major manufacturer to release a foldable phone when the
Galaxy Fold
launches on April 26th carrying a $1,980 price tag. Later this summer, the
Huawei Mate X
will be available, priced at the equivalent of $2,600. Other companies like Oppo, Xiaomi, and TCL have revealed that they will be offering their own foldable models.
We've seen some patents from Apple
that are related to a foldable iPhone; such a product could appear in 2020.
Lenovo's patent number is US D828,321 S and is titled Flexible Smart Mobile Phone. It was originally filed back in November 2017.