Lenovo passes iPhone in Chinese market
10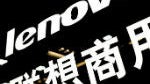 Lenovo isn't a company that we think of in the US when it comes to smartphones. At most, Lenovo is a PC company that also has some cheap Windows 8 tablets in the works. But, in China, Lenovo is getting pretty big in the smartphone market, bigger than Apple actually.
According to new numbers about Q2 smartphone sales in China, Lenovo had a huge quarter. In Q1 of 2012, Lenovo had been down in 7th place in the Chinese market, but Q2 saw the company jump all the way to 2nd place, beating out Apple, but still well behind Samsung. Lenovo had 11% of the Chinese smartphone market, which adds up to around 9.6 million handsets sold.
The total smartphone market in China was a record 87 million handsets in Q2, and while Lenovo's 9.6 was good enough for 2nd place, it was a distant 2nd. Samsung actually accounted for more than half of all smartphone sales in China at a whopping 44 million handsets. Apple actually came in 4th after a drop from 19% of the market in Q1 to just 10% in Q2. China's own ZTE took 3rd place.
Recommended Stories