Lenovo Yoga Tablet 8-inch hands-on
13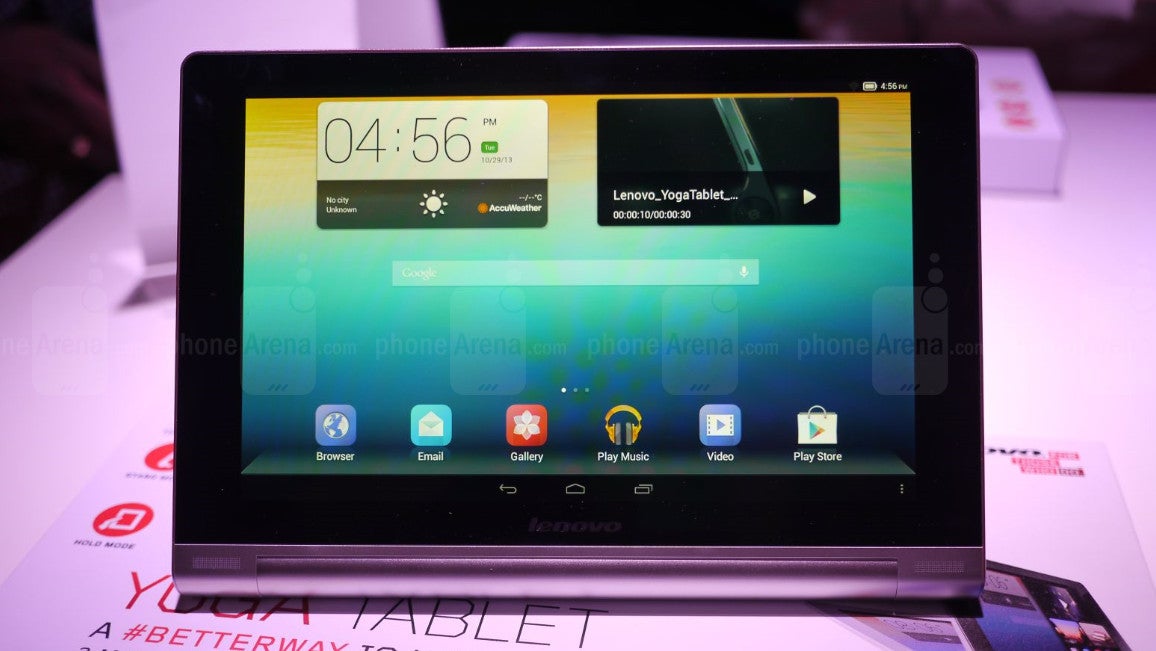 Seeing that everyone in the tablet business has two offerings to better appeal to a broad range of consumers, a full-sized option and a smaller miniature one, it's only natural to find Lenovo's just announced Android powered Yoga Tablet available in two particular options – a full-sized 10-inch model, and a more single hand friendly 8-inch version. In this hands-on article, we're going to explore the 8-inch model, which is looking to compete against devices like the Apple iPad mini, Google Nexus 7, and all the other 7 to 8 inchers out there in the space.
Design
Obviously, the 8-inch Lenovo Yoga Tablet, much like its 10-inch sibling, employs a very distinctive design that really stands out – mainly attributed to its prominent cylindrical handle. Seeing that it's smaller in size than its sibling, it's significantly easier to hold with one hand, plus, it really helps that the cylindrical handle is there to give us an effective grip to hold onto it. At the same time, that portion of the tablet discretely doubles as a kickstand, enabling us to prop the tablet in several ways. Just like its Windows powered Yoga devices, this Android powered one can stand freely to allow us to watch videos – or have it in tilt mode for better typing with its on-screen keyboard.
No doubt, the design is very appealing on so many levels, but we're equally thankful to find its build quality to be extremely solid. Well, that's partly due to its sturdy choice of materials, which is comprised out of a combination of polycarbonate and aluminum. Additionally, its choice of materials help to give it a very light weight feel in the hand.
As for cameras, it's outfitted with a front-facing 1.6-megapixel camera – while a higher count 5-megapixel one that's strategically positioned into the cylindrical handle.
It's also worth mentioning that Lenovo rates the tablet to deliver an astonishing battery life of 18 hours with surfing the web via Wi-Fi. Indeed, that's an impressive mark, but we'll have to wait and see what its real world performance delivers.
Display
Featuring an 8-inch 1280 x 800 display, it doesn't scream anything too cutting-edge, especially knowing what the new Google Nexus 7 has to offer. Nonetheless, its resolution is high enough to produce crisp text that's easily read from a typical viewing distance – so we don't have too many qualms with it, for now.
We weren't told what kind of display technology the panel uses, but from what we can gather with our quick hands-on look, it appears to be LCD technology. That's our assessment seeing that its colors appear very natural in tone – without being too saturated. At the same time, there's minimal distortion at wide viewing angles, so it maintains its clarity pretty well.
Processor and Memory
Relying on the same hardware as its 10-inch sibling, the 8-inch Lenovo Yoga Tablet is powered by a quad-core 1.2GHz MT8125 processor coupled with 1GB of RAM. Obviously, it's not something that would make people drool, but from what we're able to see, it's effective enough to run trivial operations. However, we're a bit skeptical for now about more processor intensive tasks.
For the price and all, we can't complain about the 16GB of internal storage that's stuffed inside of out, which can be further supplemented by the availability of its microSD card slot.
Interface
Running a customized version of Android 4.2 Jelly Bean, we have to admit that it's a very clean looking UI compared to other experiences – more so knowing that there isn't an actual apps panel with it. Instead, everything is placed in the homescreen, which already shares space with other various widgets and icons that are normally littered there.
It's a minimalist interface, based on some of the things we see at the moment with this pre-production model, which is nice and all, but we'll hold back our final judgment until we fully check it out. Lenovo's customized Android experiences never really appealed to us before, so we're hoping that this one will hit the spot.
Price, release date, and carrier announcements
Thinking more about its interesting and solid design, plus its screen size, we're pretty content to know that this 8-incher is bearing a retail price of only $250. That alone is pretty slick to tell you the truth, since it's something that packs a fair amount of value. And of course, Lenovo intends to get this tablet exposed to as many consumers as possible because it's going to be available through various channels – like Amazon, Best Buy, Fry's, Newegg, and Lenovo itself. Although there's a placeholder in the rear behind the kickstand for what seems to be a SIM slot, there's still no confirmation if we'll actually see cellular enabled versions.