Lenovo ThinkPad 8 now official: brings Intel Bay Trail powered full-on Windows 8.1 with 8-hour battery life
16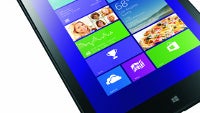 The Lenovo ThinkPad 8 has just made its official debut. An 8.3-inch tablet with full-on Windows 8.1 experience (as opposed to the limited RT edition), a brand new 22nm Intel Bay Trail quad-core chip and 8-hour battery life, the ThinkPad 8 brings an impressive package at a starting price of $399.
The combination of Intel's newest Atom mobile microarchitecture combined with a full-on Windows 8.1 experience on a tablet with good battery life is definitely the most impressive feat of the ThinkPad 8. You should be able to configure the tablet, but the version Lenovo advertizes comes with the most powerful 2.4GHz Intel Z3770 quad-core chip. Sadly, Intel has gone the way of Qualcomm and others advertizing max turbo clock frequencies rather than average speeds, so that 2.4GHz number is not actually your average. The average speed after the inevitable thermal throttling will likely be around 1.46GHz. Bay Trail comes with Intel's own HD Graphics solution with support for OpenGL 3.2 and DX11. The ThinkPad 8 also features 2GB of LPDDR3 1067MHz dual-channel RAM.
The tablet will come with a separate Wi-Fi only and cellular data (3G and 4G) models. Both are fairly compact only differing slightly in weight. Both also weigh more than the average 8-inch tablet at nearly 0.95 pounds. All of that fits an 8.8mm thick machine cut aluminum body.
The 8.3-inch screen is very sharp featuring an impressive Nexus 7-like 1920 x 1200 pixel resolution. It is a compact solution, but still not too small to be a limiting factor for Windows 8.1. There are no on-screen buttons, just a single Windows key below the screen.
The ThinkPad 8 comes with an 8-megapixel auto-focus rear camera with a single LED flash, and there is a 2-megapixel shooter up front. Both cameras are capable of recording 1080p full HD video. You can store images and files in general on up to 128GB of internal storage. The tablet also features dual speakers and dual microphones.
The Lenovo ThinkPad 8 will arrive in late January and will be configurable, but you can expect topseller model prices to start at $429.