Lenovo Tab 2 A7-10 and A7-30: Hands-on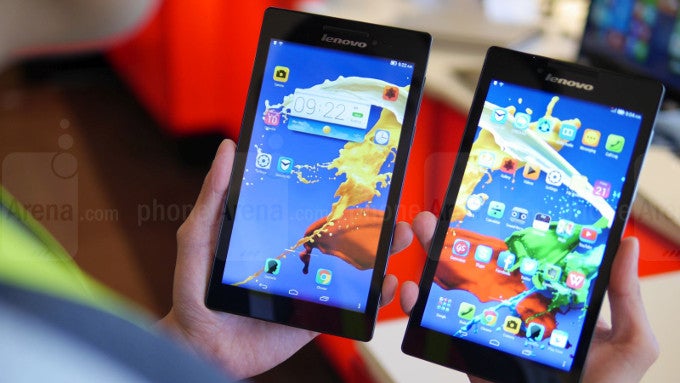 Unlike most Chinese manufacturers, Lenovo's scale and wide distribution channels have allowed it to quickly expand its reach beyond its homeland, and into Asia, the Middle East, and Europe. Its devices are seldom available in the US, but we imagine the company is working hard on changing that. Considering the latest devices to come out from its labs, we imagine that plenty of customers would like that to change, too – at least those that are actually aware of the fact that Lenovo is nowadays making smartphones and tablets, not just laptops and PCs.
To drive that point home, we took a look at its new, ultra-budget tablets at CES 2015 – the twin Tab 2 A7-10 ($99) and Tab 2 A7-30 ($129). Let's talk about them a little bit.
Design
When we said that these two slates are twins, we weren't kidding – in terms of their exterior, they're essentially identical. Both have a height and width of 4.1 x 7.5 inches (104.1 x 190.5 mm), but the A7-10 is slightly chubbier, with a 0.36-inch profile versus the 0.35-inch one of the A7-30 (9.1mm versus 8.9 mm). At 9.44 oz (268 g), the two are also equally light.
As for aesthetics, we can't complain – the two feel solidly put-together and the plastic and soft touch matte at the rear feel adequate for the price range. The duo have fairly uncluttered shells, with the A7-10 only exhibiting a Lenovo and Dolby logo, while the latter adds a rear-mounted camera to the mix. At the front, we're looking at a similar approach – the relatively thin bezels help with ergonomics and the panels are unencumbered by anything but a speaker (where the earpiece is) and small openings for the selfie camera.
Looking at the sides, the tabs have their power and volume rockers located on the right, a microphone on the bottom, and a USB port and 3.5 mm audio jack on the top. Clean.
Display
These being entry level tablets, their 7-inch IPS panels' resolution of 600 x 1024 pixels (170 ppi) shouldn't be at all surprising. Still, such pixel density is obviously close to the sanitary minimum. Similarly, the two also limit what is viewable from an angle, so it's best if you keep them in front of your eyes.
Overall, as far as the display goes, you get what you paid for.
Interface
A few months from now, any new Android handset that fails to launch with the latest, 5.0 Lollipop update to the operating system will likely get a lot of beef for that omission, but we wouldn't say we're quite there yet. That's why the fact that both the Tab 2 A7-10 and A7-30 run on Android 4.4 KitKat doesn't bother us that much, though we're unsure if and when an update might come over-the-air.
This isn't your typical, stock AOSP interface from Google, however – we're instead looking at Lenovo's own VibeUI skin, which is a far more colorful and functional take on the core Android offering. Perhaps the first thing you're bound to notice is the lack of a dedicated app drawer, so all your apps are instead cluttering your homescreen unless you organize them in folders – iPad style. All said, we tend to be favorable towards Lenovo's work in this department.
Processor and memory
So far, much about the A7-10 and A7-30 has been identical, but this isn't always the case. Case in point: The two devices run on similar, but nevertheless different processors and have different amounts of built-in storage available.
Starting with the chipset, both devices use a quad-core MediaTek chipset clocked at 1.3GHz – an MT8127 with the cheaper A7-10, and an MT8382 for the slightly more expensive A7-30. That's because the A7-30's processor has a 3G module on board, while the A7-10 does not. In other words, the former can place phone calls and send texts and MMS, while the latter cannot.
In terms of memory, while both devices make use of 1GB of RAM, the A7-10 only offers 8GB of storage, while the A7-30 entices potential buyers with 16GB. Thankfully, both models can have that expanded through a microSD card.
Camera
Imaging is another department in which our two tabs differ. For example, while both share the same, 0.3-megapixel front-facing camera, the more affordable A7-10 actually lacks a rear-placed shooter altogether, while the A7-30 sports a second, albeit unimpressive, 2-megapixel camera.
For what it's worth, neither of the two has an LED flash on board, though that's a standard practice with tablets – even ones that are positioned on the higher end of the price spectrum.
Expectations
Despite their bare bones specs, at $99 and $129 for the Lenovo Tab 2 A7-10 and Tab 2 A7-30, respectively, it's hard to complain. Sure, these are far from the most exciting gadgets we gazed upon at CES 2015, but they certainly are among the most affordable.
If you're looking for a tablet that offers great value for money – especially one with cellular connectivity – it's hard to argue against the A7-30, which strikes us the slightly better choice between the two. For folks that are truly price-sensitive or are simply looking for a burner tablet for their parents or kids, however, the A7-10 will also do the job without making a fuss about.