Lenovo K6, K6 Power and K6 Note hands-on: cheap phones now come with Full HD screens
2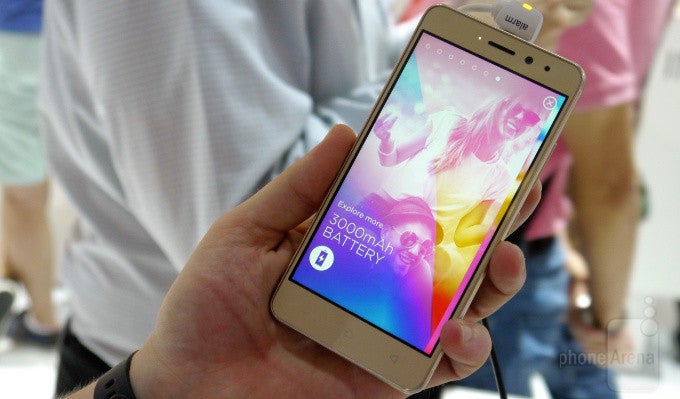 Lenovo has unveiled its new series of super affordable phones at IFA 2016 in Berlin, and we were there to take a look and see what they are all about.
The Lenovo K6 series, the new entry-level series, comes in three models: the most affordable Lenovo K6, the K6 Power with larger battery, and the K6 Note with its larger display.
A trio of affordable phones with fingerprint scanner and a giant battery option on one
All of the K6 series share the same essential running block: they are powered by the Qualcomm Snapdragon 430 system chip featuring an octa-core CPU with eight Cortex
A53s
running at up to 1.4GHz. Compared to other modern chips, this one is built on the rather old 28nm manufacturing process, so while sufficient, the performance of this chip is definitely in the lower end of the market.
A nice addition to all of these super affordable devices is a fingerprint reader located on the back that adds an extra layer of security. With this in mind, let's look at each one of them in more detail. All of the K6 phones run on Lenovo's user interface on top of Android 6 Marshmallow.
Lenovo K6 Note
The Lenovo K6 Note features a 5.5-inch Full HD (1080 x 1920
pixel
) display and sports the most advanced camera of the trio, a 16MP phase-detection auto-focus snapper with dual CCT flash, while up front it has an 8MP selfie shooter. On its back, you'd find the speakers that are enhanced with Dolby Atmos tweaks to the sound profile.
The K6 Note ships with 32GB of internal storage that you can expand via microSD cards of up to 128 gigs.
Lenovo K6 Power
The Lenovo K6 Power is nearly identical to the regular K6: both feature a 5-inch Full HD display and Dolby Atmos sound enhancements, but the K6 Power boasts a massive, 4,000mAh battery. It also comes in two versions: a more affordable 2GB RAM / 16GB of storage model, and a 3GB / 32GB version.
Lenovo K6
Finally, there is the regular Lenovo K6 that is expected to retail at prices even below those of the Moto E. Nonetheless, it features a fairly good-looking display: a 5-inch 1080p panel is usually not the norm at this price point. It sports a 13-megapixel rear camera and an 8MP front snapper, while its battery is slightly smaller than the one on the K6 Power: here, we're dealing with a 3,000mAh cell.
Expectations
All in all, the Lenovo K6 series looks like a solid offering for the price. Our main gripe with them is the performance: all of them feature 1080p displays, and that might be a bit of a tall order for the Snapdragon 430. The units we saw on display at IFA had some significant issues with lag, but hopefully those will be ironed out in the final versions of the devices. For all else, we're happy to see a fingerprint scanner and a large-battery model, and the design of the new series is not too shabby.