Lenovo K2 smartphone hands-on
1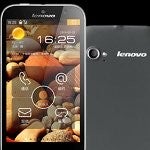 You might have already read our hands-on with the Lenovo S2, which underwhelmed us to say the least, but we were also able to go hands-on with its larger brother the
Android-powered Lenovo K2
. Would this device help rectify all the things that we disliked about the S2, or would it fall due to the same flaws? Read on to find out.
Frankly, there isn't much that changes between the two Lenovo handsets. The K2 is powered by
Android 2.3 Gingerbread
and should get updated to ICS in the future. It has a
4.3-inch display
but we can't say that it was any better than the S2's 3.8-inch one with the exception of the added real estate. Colors and text were decent, but still nothing that generates any type of excitement. The body of the K2 is a bit chunky. It is pretty thick and has some weight to it, although it helps to make the phone feel sturdy. The design is pretty uninspiring and doesn't really have anything that sets it apart.
Like the S2, the K2 replaces the standard Android capacitive buttons with a
singular home button and a gesture area
. This is very reminiscent of what Palm/HP did with the WebOS devices of the past. Swiping in certain directions allows you to go back, forward and bring up card-like multitasking. We found the performance of the gesture area to be a little inconsistent, but it did what it was supposed to most of the time.
Powering the K2 is a
single-core 1.5GHz processor
, a slight bump up from the 1.4GHz processor found in the S2. The K2 managed to perform slightly better than its younger relative, but this won't win any speed contests. Apps opened after a brief moment, and swiping between the screens was okay. Perhaps what bogs down the K2, as well as some of Lenovo's other handsets, is the custom user interface that they have built on top of the Android platform.
In case you aren't yet familiar with it, the
UI is called Clover
. It is a very heavy interface that had us questioning if the K2 (as well as the S2) was really an Android smartphone. Clover is very cumbersome and the performance that we experienced with the K2 is probably a product of the UI. It is full of widgets and customizations that would be better suited for a dual-core device. There is some potential there but it just isn't fully realized yet.
Our overall impression of the Lenovo K2 smartphone is very similar to that of the S2. Underwhelming, incomplete and clunky are good words to describe it. We appreciate their effort to make the Android experience different with their Clover UI, but it is in need of some serious fine tuning. As of now the
K2 is destined for China
, so it remains to be seen if it will ever see the shores of the US or not.