Leap of Fate hands-on
1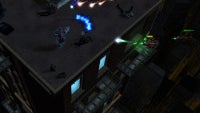 Tired of the same old jewel based puzzle game for your mobile device and yearn for something a little bit faster paced? Well, the team over at Clever Plays is cooking up one high intensity gaming title in Leap of Fate, an endless survival action game that puts you in control of a powerful mage fighting against a horde of enemies.
Blink for a moment, and you might realize that the game is done, mainly because the action is fierce and intense. For those of you wondering, Leap of Fate's gameplay is similar in style to Gun Bros, seeing that the on-screen controls consist of two sticks – one that allows us to move our character, the other is used for aiming. Therefore, the learning process in getting situated with the game play style is minimal.
As for as the graphics, Leap of Fate relies on randomly generated levels that make good use of 3D elements in the environment – while also employing a cyber punk style with its presentation. Our character, the all-powerful mage, projects various projectiles and abilities to impede the storming onslaught of enemies trying to defeat us. The game at PAX 2015, is still in the early stages, but based on what we're able to play, it looks as though things are moving accordingly with the game.
It'll be interesting to see how the developers are able to extend the fun from the usual survival element of the game play – so that's where these upgrades come into play. Although there's no definite date yet for its release, the developer is anticipating a target time frame this coming summer. First on PC, then on iOS and Android after that, which should help to spread its reach. If you can't beat the monotony that accompanies many of these puzzle games for mobile, then you'll be ecstatic to find a different change of pace with Leap of Fate.