Leap Motion gesture control may hit mobile devices in Q3 2014
6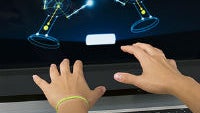 Gesture controls are something that we already have on some mobile devices, but right now the implementation of gesture controls is very basic. You can swipe or scroll, but that's about it. The input options are limited, the accuracy isn't so great, and the functionality has only specific times where it makes sense to use. However, Leap Motion wants to revolutionize gesture control, and plans to do so in mobile devices late in 2014.
Leap Motion
released a controller
for traditional PCs back in March, which was received to fairly good reviews. The technology can detect up to 10 fingers (which is lucky since that's the number most humans have), and offer much more in terms of gesture controls. The accuracy wasn't perfect, but it was certainly a good start, and now we know the timetable for integration with mobile devices.
Leap Motion CEO Michael Buckwald has told
The Next Web
that the hope is to have its gesture control system built-in to smartphones and tablets by the second half of 2014. The physical challenges of putting Leap Motion technology into a mobile device have apparently been solved, so now it is just a matter of getting hardware partners, designing, and building devices. While the technology can work in smartphones, it sounds like Buckwald can more easily envision the usage in tablets, saying:
[For tablets] it's about creating a three dimensional experience for interacting with the tablet. There are some unique things though that we're talking to OEMs about because you could use that 3D space to interact with screens that are distant as well. So you can imagine syncing an Android phone to a TV on the other side of the room and then using the space above it to control that TV.
We started with PCs but we want to be in tablets, phones and in the future TVs, head mounted displays and even things like cars.
The technology has been growing steadily since its release, and with a new software update today it can now track your entire hand rather than just your fingers. It should be very interesting to see what comes of this when it does get added to tablets, because it will definitely offer much more in terms of gesture control.