Leaked OS 5.0.0.323 for BlackBerry Storm 9530
This article contains unofficial information.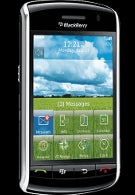 As we
reported
to you, the BlackBerry Storm 9530 is expected to get an official firmware upgrade just before or after the launch of the Storm2. This essentially will allow the original model to match the capabilities of the new version except for hardware related features. While RIM and Verizon have yet to offer up the official upgrade, there is a leaked OS update for the handset that comes out to version 5.0.0.323. This is not an official release which means we need to remind you about the usual bad things that can happen to your device if you download it on your Storm. You could brick the unit, void your warranty or other unmentionable things could happen to the phone. Having said all that, if you decide the risk is worth taking and you want to check out some of the goodies that are supposed to be on the 5.0 BlackBerry OS build, please do not hesitate in letting us know. As we've already discussed, the new build is supposed to bring things like threaded texting, tabbed browsing and flick scrolling and "rolling" to the Storm. To download the leaked 5.0.0.,323 OS, go to this
link
.
Early findings include faster flick scrolling, more responsive screen, camera works (!), and faster browser. For those Storm users who need to perform a battery pull a few times daily, the boot-up time has dropped from about 5 minutes to under 2 minutes. Overall, the leaked OS is getting good reviews from those who are using it on their Storm 9530.
RIM BlackBerry Storm 9530 Specifications
|
Review
source:
Crackberry