Leaked AT&T documents compare iPhone to Pre?
9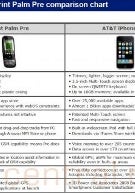 Imagine a prizefight between the current world´s heavy-weight champion and a person not born yet. That is the feeling we got after reading what appeared to be a leaked AT&T document, comparing the iPhone 3G to the Palm Pre. The paper is basically a tool that Ma Bell's reps are supposed to use when confronted with a customer asking them to compare the two handsets. The document enrolls many of the Apple's touchscreen device features that make all Apple buffs think their beloved phone is bigger, faster, more responsive and user friendly than the Pre. For example, the iPhone 3G's 3.5 inch display is matched up favorably with the
3.1
-inch screen on the Palm's device. The comparison sheet even gives the Palm a jab pointing out that Apple's touchscreen handset features a patented Multi-Touch screen technology with fast and responsive navigation. It is hard to pass a judgment on a fight if one of the contestants hasn´t even made it to the ring yet, but we're pretty sure that some people out there have already picked out the winner anyway.
source:
precentral