Who has the fastest 4G speeds? US climbs into the top 5 in LTE coverage
15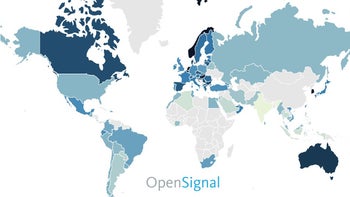 While
5G
is the latest buzzword in the carrier industry, we are still on 4G LTE, and, despite that Qualcomm and others are
issuing modems
that can take advantage of "pre-5G" up to 2 Gbps speeds, carriers can't hit anywhere near that in real-life scenarios. Are you curious which country has the fastest LTE network in the world, or what's the average 4G speed globally?
Well, the latest annual report from OpenSignal answers these pressing questions for you. The top two in terms of 4G availability are still South Korea and Japan, but for the first time it's the good ol' US&A that has climbed in the top 5, and, given the area that Verizon, AT&T, T-Mobile and Sprint have to cover, it's a remarkable achievement.
When it comes to average 4G LTE speeds, however, the world hasn't seen much progress since the previous annual report. Even the fastest LTE networks, such as those in Singapore, the Netherlands, or Norway, are still in the 40-45Mbps range, while "
the Holy Grail of 50 Mbps remains just as elusive
," say the folks from OpenSignal.
The average speed in the US is much lower, at 16.3 Mbps, but, again, the territory that Verizon, T-Mobile, and the others have to cover, is vast, which somewhat explains why the average 4G speeds in the US are close to those of Russia, which has even larger swaths to take care of. Still, that's 25% higher than the average US speeds in the previous global LTE report, so there is progress.