Latest Apple Watch guided tour shows how the device tracks your activities
7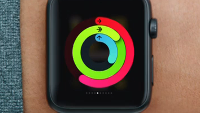 Last week, we told you about the eight videos offered by Apple as a guided tour of the Apple Watch. Those include topics like how to use Siri on the timepiece, changing watch faces, messages, answering and placing phone calls, how to listen to music, calling up maps and using Digital Touch. Another video called Welcome is an overview introducing you to the device.
Today, Apple has posted the next video in the series, called "
Activity.
" This tour shows you how the Apple Watch can get you up and moving, making you active. The Activity app can be accessed from the home screen and the first time you open it, you will see suggestions. For example, the watch will tell you that achieving three different fitness goals daily leads to a better life. It will also recommend that you stand at least one minute of each hour and that by moving more, you are more apt to reach your personal calorie burn goal.
After entering some personal information about yourself, the watch starts monitoring your activities every day by tracking "three rings." The rings track your daily amount of
active
calories burned, minutes of brisk activity andthe number of hours during which you stood for at least one minute
.
And you can quickly see how many steps you've taken on a given day, the distance you've walked, and the total number of calories you've burned. Via the Apple Watch app, reminders will be send out encouraging you to reach your fitness goals.
Check out the latest guided tour around the Apple Watch by clicking on the video below.
source:
Apple