Late to the party, AT&T to launch BlackBerry Bold 9900 on November 6th
9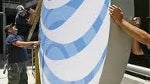 Whatever happened to tradition? After all, it was AT&T that helped RIM step up and become a more relevant smartphone manufacturer with the launch of the
BlackBerry Bold 9000
in 2008. The shape and size of the device had many becoming fans at first touch. And of course, the physical QWERTY on that phone is one of the best ever to be melded onto a handset. We can still remember the ads AT&T was running proclaiming it the fastest 'Berry ever with a 624MHz processor under the hood (compared to the single-core 1.2GHz processor in the BlackBerry Bold 9900/9930).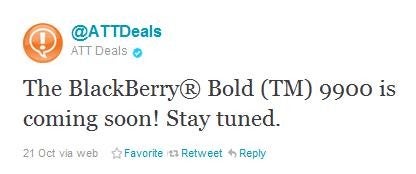 The BlackBerry Bold 9900 is "Coming Soon!" to AT&T
Well, times have changed and today the
BlackBerry Bold 9900
combines the shape and size of the BlackBerry Bold 9000 with a 2.8 inch touchscreen, and keeps (a little wider version of) the QWERTY keyboard . Had RIM had the foresight to release the BlackBerry Bold 9000 with a touchscreen, who knows, things might be different today.
T-Mobile has already launched its variant
of the BlackBerry Bold 9900 for $299.99 with a signed 2-year contract, while the CDMA version, the BlackBerry Bold 9930, is already available for
Verizon
and
Sprint
customers at contract prices of $249.99 and $199.99 respectively. All three had the phone ready to go back in August, which begs the question, where is the AT&T model of the phone? Well, the good news is that a tweet from AT&TValues says that the handset is "Coming Soon!". According to BlackBerryOS, speculation is centering on a
November 6th release
of the BlackBerry Bold 9900 for AT&T. No pricing information is known at the moment. For AT&T it is a case of better late than never.
Anyone on AT&T still rocking the BlackBerry Bold 9000 and looking to upgrade with the new model?
source:
BlackBerryOS