Last chance to save net neutrality has long odds to succeed
8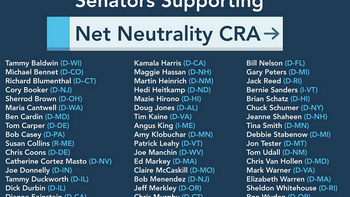 Net Neutrality is technically dead. The regulation that forced carriers to treat all content the same was
killed by the Trump-era FCC led by its president Ajit Pai
. And while a vote by the Office of Management and Budget is all that is needed before your carrier can start discriminating how it disseminates content, there is a last chance movement brewing in Washington that could save Net Neutrality. Still, it is a longshot.
Under the Congressional Review Act, a regulation approved by a governmental agency can be overruled by Congress. A resolution to override the regulation must make it through the House and Senate and signed by the president. There is a time limit as the resolution must be passed no later than 60 legislative days after the enactment of the regulation. A legislative day is one when Congress is in session.
As we
alluded to back in January
, the Senate has the best chance of passing the resolution. All 49 Democrats will vote for it and one Republican (Maine's Susan Collins) will cross the aisle. But a 50-50 deadlock will only result in a tie breaking vote by vice president Mike Pence, and you don't need a Magic 8 Ball to know how he will vote. Thanks to a rule that has been used by the Democrats, the resolution does not need to get out of committee. A list of Senators supporting the resolution can be seen in the image at the top of this story.
After a debate, there will be a vote next week; if the resolution passes, it will move on to the House where it probably won't find much support among Republicans. And if a miracle should happen and the resolution to eliminate the falsely named "Restoring Internet Freedom Order" passes both the Senate and the House, it still would most likely be vetoed by President Donald J. Trump. Of course, the House and Senate could override a presidential veto, but that would require a vote in favor of returning net neutrality to be cast by two-thirds of the members in each chamber.
Stranger things have happened. Ask Minnesota Viking fans who
witnessed their team pull off a last-second miracle
in this past year's NFL playoffs. But that seems like child's play compared to what fans of net neutrality need to happen in order to keep the regulation alive.
source:
CNET