Labs features graduate to settings in Google Maps update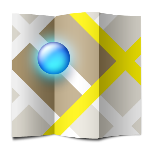 We've hit a landmark moment in the life of Google Maps for Android, the first features to ever graduate from Labs status to full feature settings has finally happened. As you know, Labs is where Google puts all of the features that aren't quite ready for prime time, but could be pretty useful. It's a test-bed for features really.
There is also an update to the existing Measure option which is still in the Labs. Measure has allowed for measurement of distance between two points, and now it will also give the elevation change as well.