LTE phones to be thinner than Verizon's, says AT&T
36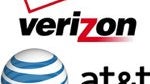 It is no secret that the 4G LTE devices to hit Verizon Wireless so far haven't exactly been the skinniest of the bunch and AT&T is taking a shot at that by saying their 4G LTE devices will be thinner.
These words come straight from the mouth of AT&T's brave leader, Ralph de la Vega. So why is AT&T claiming that they can produce thinner 4G LTE devices then their main competitor? The answer is simple. The LTE phones that will run on AT&T's network will use a technology called circuit-switch fallback.
When a 4G phone ventures out of a coverage area, the device will fall back to a traditional circuit switch-based 3G network. Verizon devices differ in the sense that they need two radios; one for 3G and one for 4G LTE. Not only does it add bulk for having two radios but each radio requires their own power source which adds even more bulk. Devices like the HTC Thunderbolt and the LG Revolution are big for a reason.
In all fairness, Verizon has already brought 4G LTE to the forefront and has already blanketed many cities with the blazingly fast network. As the technology grows older it will definitely decrease in size which should allow Verizon to make some svelte devices as well. AT&T should be launching some LTE devices in the coming months so we will all have to see if they can deliver on their Chief's promise. Tell us what you think.
source:
CNET