LG's newest Disney Mobile smartphone comes with a Mickey Mouse Swarovski cover
11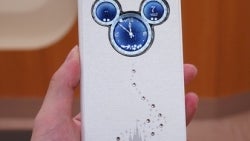 Out of the devices that LG makes, the G series of high-end Android smartphones are the products that draw in most of the attention at the global level. However, as we all know, the Japanese market has its own set of rules, forcing smartphone manufacturers to adopt to the local scenario. It's in this context that LG has recently unveiled a new Android smartphone that comes with a Mickey Mouse cover which also incorporates Swarovski crystals.
The new LG smartphone is the eighth handset in the company's Disney Mobile line-up, one that is apparently quite popular in the Land of the Rising Sun. The device is officially codenamed the LG DM-01G, with DM standing for "Disney Mobile".
The most interesting aspect of this new LG smartphone is the Mickey Mouse cover that accompanies it. There are cuts in the cover that shape Mickey's head, and through these cuts, you can glance at information displayed on the smartphone without having to open the cover. To further entice Disney fans, the cover also comes with Swarovski crystals that seem to emanate from Cinderella's castle, which is printed on the lower side of the cover. The cover is offered in multiple color options, such as blue, pink, and white.
In the specs department, the LG DM-01G comes with a Qualcomm Snapdragon 801 chip (the same silicon that powers devices such as the LG G3 or the Samsung Galaxy S5), 2GB of RAM, 16GB of internal storage space, and a 2,920mAh user-removable battery. The display is a 5.2-inch IPS panel with a resolution of 1080 by 1920 pixels (Full HD). The handset measures 144 x 74 x 10.8 and tips the scales at 149 grams.
On the software side, the LG DM-01G is based on Android 5.0 Lollipop, overlaid with LG's own UI layer. As a special software feature, the handset also comes with a series of Disney-inspired themes.
The handset was launched today on NTT Docomo, and it looks like the LG DM-01G will remain a Japanese exclusive, as all of the other handsets in LG's Disney Mobile series.
Recommended Stories