LG wants you to make a smart choice with hilarious new G Pad Series ad
14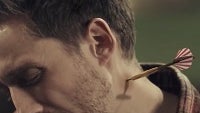 Using humor to make a point is a reliable, age-old playbook, and it generally works. In LG's case, its new ad for the
G Pad
Series of tablets is merciless.
It is plain to see that LG ripped a page out of the well-played marketing plan, but why try to fix sometime that is not broken? The ad cuts right to the chase, "People sometimes make dumb choices." Indeed, that is true.
As far as comedy goes however, this poor soul runs the gauntlet of abuse in a manner that would send any of us mere mortals to the hospital. Whether it is almost getting hit by a bus, walking into a lamppost, falling into a manhole, or getting shot in the head with darts, this is a tale that exudes the concept of being ridiculous to a new level.
In the meantime, LG does manage to share a little bit of functionality of the G Pad, at least the part that links the LG smartphone to the G Pad so you can make or take phone calls on it. So, which choice are you going to make?