LG to ramp up its production of glasses-free 3D displays; adopts eye-tracking technology to make them better
11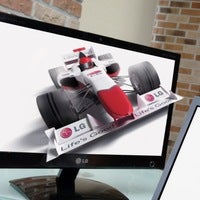 Glasses-free 3D displays are still in their baby years and are clearly nowhere near as perfect as we wish they were. However, it looks like LG is committed to taking the technology behind them a step beyond and will bring some more 3D goodness to the mainstream market.
The Korean consumer electronics giant has officially announced that its D2000 3D monitor is entering mass production and should hit its domestic market within a month. The 20-inch panel uses the parallax barrier technology to magically bring the third dimension to life, yet what makes the D2000 special is
its ability to track the eyes of the viewer
thanks to its built-in camera. In theory, that should expand the annoyingly narrow sweet spot that owners of the
LG Optimus 3D
or the
HTC EVO 3D
are so familiar with.
Would you consider getting a smartphone or a tablet with a glasses-free 3D display if all the imperfections of the technology get taken care of? Feel free to drop a comment for us below and tell us what you think.
source: LG