LG preparing new LTE device series, brags about selling 5 million LTE smartphones in Korea
5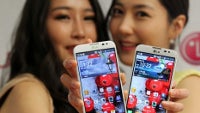 LG has just proudly announced it has
shipped over 5 million LTE capable smartphones
in its home market of South Korea over the last 18 months. It all started a year and a half ago in October 2011 when LG launched the Optimus LTE. Since then the company has sold one LTE device every ten seconds.
LG's LTE device are divided in the Optimus and Vu series, and the company is allegedly
planning on introducing a new, third brand of 4G devices
to widen its outreach.
That is definitely a big achievement, but amidst competition from rival Samsung and the other big local player Pantech, is it enough? Samsung is Korea's leading smartphone manufacturer while Pantech and LG are fighting for the second place.
LG however is definitely happy with breaking that milestone. It attributes this success to its focus on differentiating in four key areas: display, user experience, design and LTE technology. The company has also strengthened its patent portfolio.
Right now, LG has released a total of 8 4G LTE devices in Korea. In chronological order, those are the LG Optimus LTE, Optimus LTE Tag, Optimus Vu, Optimus LTE II, Optimus G, Optimus Vu II, Optimus G Pro and Optimus LTE III.
source:
ET News