LG outs Quick, the most powerful wireless charging pad that's as fast as a wire
10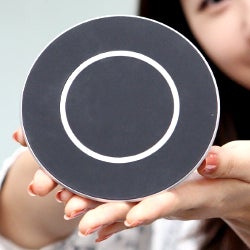 LG just one-upped Samsung when it comes to extremely fast wireless charging, at least in terms of speed, if not wide availability of the technology on its own phones. While Samsung ships high-end phones like the
Galaxy S7
or
S7 edge
with wireless charging abilities that defy everything that's been done so far in the mainstream, LG issued the Quick Wireless Charging Pad that can juice up as fast as a wired connection.
Samsung bragged during the S7 and S7 edge announcement that charging those up takes only an hour and a half with the provided cable and power brick, while charging them wirelessly takes two hours. Indeed, those two are at the top of our own charging speed tests, and two-hour wireless charging was something unheard of, too.
Enter LG's Quick creation, which provides no less than 15W of power for your enabled gadgets. For comparison, most wireless chargers nowadays give 5W. LG claims that its pad can pump your devices full of electrons good for a 50% top-up in 30 minutes, which is as fast as quick-charging the average phone battery with a 2A or higher power brick output. In addition, the Quick Wireless Charging Pad has built-in thermal safety switch, so if your phone starts heating up during charging, it will shut off.
Cue the
Note 7
jokes here, but LG has outed a pad that is in a league of its own when it comes to power output, so these precautions would be par for the course for any phone. The round gear is compatible with most handsets that offer wireless charging, and will be available in North America, Europe, and Australia in the next week or two, for a price yet unknown.