LG awarded design patent outlining a phone that will bend and attach to a bracelet
15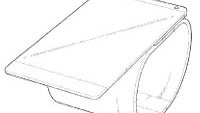 While the portable phones from two decades ago have gone through absolutely mind-boggling improvements to arrive at where they are today, it has nevertheless been some time since we've had any change in the form factor. Indeed, regardless of manufacturer, a smartphone today mostly means a rounded rectangular slab with 60% and more of its surface taken up by a touch-enabled screen. Interestingly enough, while those two are likely to remain a constant this next decade, companies like LG envision a future where they are far more flexible.
Case in point: a new LG
design
patent outlines a rectangular smartphone that can bend without a problem in order to conform to a bracelet on your wrist. We put emphasis on the 'design' part, as the filing itself reveals nothing in terms of how the South Korea-based electronics giant intends for such a gadget to do so. In other words, while LG has already covered quite some groundwork in this particular niche with the
LG G Flex
and
G Flex 2
, something like this is basically a whole new ball game. The only clues provided are the many lines at the back of the device that suggest that that's where the smartphone in question would bend in order to accommodate a more circular shape.
In a way, such a concept doesn't differ too much from the idea of a giant-sized smartwatch, and that, in itself, could be a problem – manufacturers are already having trouble enough getting people to adorn their wrists with normal-looking smartwatches, let alone a smartphone-sized bracelet. We're holding out for folding smartphones.