LG Uplus is 1st carrier to cover an entire country with 4G LTE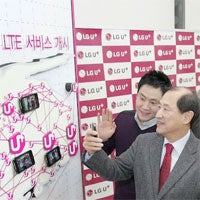 While Verizon continues to become a major face in the 4G LTE space by making headway on its promise to match its 4G coverage with its 3G footprint here in the states, LG's Uplus wireless service achieved a major 4G LTE industry milestone by becoming the first carrier in the world to blanket an entire country with 4G LTE service.
According to TeleGeography, LG spent upwards of $1.1 billion to build a 4G LTE network that covers "86 cities across the country, along all highways, and in subways, airports and train stations" in South Korea.
On the technical side of things, the network was built on the 900 MHz band. LG did, however, say that it plans to build out its
2.1
GHz coverage as well.
While South Korea is only about the size of the state of Indiana, it is home to over 49 million people. Even though Uplus is the smallest wireless provider in the country, it already has over 1.46 million subscribers utilizing 4G, while the largest provider, SK Telecom, has 1.73 million. In short, while the network didn't need to cover as much physical space as say Verizon's here in the states, it does need to support a very dense population of users making this a very significant milestone in the progression of 4G LTE networks.
source:
IntoMobile