LG Optimus LTE II is caught in the wild donning a white paint job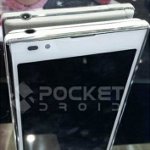 Becoming a common occurrence amongst top-shelf smartphones, the color white has shown itself to be the better color choice to mask some of the baddies that normally dirty our precious devices – and overall, they tend to look considerably cleaner in appearance.
Knowing that the
LG Optimus LTE II
fits the bill as being yet another super spec'd Android smartphone, it has the qualifications to be blessed with that
piercing white paint job
. Rightfully, that's exactly what we find as the device was recently spotted in the wild sporting that all too conspicuous white paint job.
LG Optimus L7
, which we recently reviewed, since its design characteristics are very similar to one another. Still, the important question that we're all dying to know is whether or not the handset in general will be
launched outside of its home country of Korea
.
Nonetheless, it still doesn't surprise us that a white version of the LG Optimus LTE II is floating out and about, since the color seems to have this polarizing effect on people in general.
source:
PocketDroid
via
Unwired View