LG Optimus 3D to convert mobile games into 3D, to feature some National Geographic works
10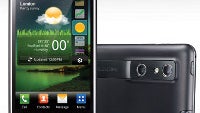 The
LG Optimus 3D
is the first handset featuring a glasses-free parallax 3D display, but even though it does handle 3D well, we still wish it had more content. LG seems to have paid attention to our grumbles and is adding not only video content but an all new
3D Game Converter
. While you can always shoot your own 3D videos, when it comes to gaming, you're pretty much left at developers' mercy.
The conversion engine will change that by taking any
OpenGL 3D
game and modifying it to a stereoscopic three dimensional title. OpenGL is a cross platform API often used in first person shooters like Doom 3 and the Quake series, but also in recent titles like Minecraft. The converter will work for any game you pick, but you'll be able to tune the settings on 50 games initially, later followed by another 50.
To convert the game into stereoscopic 3D, the engine
uses already existing 3D
data, so it should yield equally good results with games. Currently, LG's Optimus 3D will be the only model to support it as the company hasn't released other 3D-enabled handsets. The Game Converter is expected to arrive sometime around October, along with a software update.
For videos and pictures, LG has collaborated with
National Geographic
. The NG team has put the phone through its paces in different environments and all the resulting photos and videos will be made available for Optimus 3D users. LG doesn't say exactly how, but IFA is coming up soon with the answers. The event kicks off September 2nd, so make sure to check back around then for more details.