LG G7 ThinQ vs Apple iPhone X: first look
16
Without stating the obvious, we know how Apple's iPhone X has been causing a ruckus in the mobile landscape – more so with one of its more peculiar aesthetics. While it's seen a barrage of new smartphones aiming to match its capacity, the LG G7 ThinQ is the latest amongst the new breed that's looking to take a swing at taking down one of the juggernauts in the space. Flaunting a fresh new design, along with some added intelligence, it's going to be interesting to see how the G7 ThinQ will fair in the long run.
Design
LG has done a remarkable no doubt with the redesign of the G7 ThinQ, adopting more of the V30's aesthetics with its glass meets metal construction and curved edges. Against the iPhone X, however, it's noticeable longer, wider, and slightly thicker, making it more of a stretch to hold and operate. Both are without question premium in nearly every facet with their constructions, but there's just more of a substantial feel to the iPhone X. It's really noticeable when you hold the two phones side-by-side one another!
Of course, the similarities of their designs can most certainly be evident in how the G7 ThinQ also adopts the "notch." Thankfully, though, it's not quite as distracting looking or wide as the one featured on the iPhone X, as it can be adjusted in the display settings to appear uniform. We will note that the G7 ThinQ is kind enough to throw in a 3.5mm headphone jack – while also increasing its water resistance construction to IP68, versus the iPhone X's IP 67 rating. What'll be an adjustment for some people, though, will be the repositioning of the power button to the side of the phone, as opposed to its integration with the fingerprint sensor in the rear that we've grown accustomed to seeing.
Display
Over on the specs side, the LG G7 ThinQ packs a 6.1-inch QHD+ (1440 x 3120) FullVision Display – while the iPhone X sizes up with a 5.8-inch Super Retina OLED Display (1125 x 2436). Sure, the G7 ThinQ might have the edge in terms of pixel density, but in all fairness, it's nearly impossible to discern when looking at the two displays from normal distances. At the same time, too, both are sporting ridiculously thin bezels around their displays, helping to give them that all-screen look that's been the trend.
In our quick look at the two displays, it's honestly tough to say which one we like better. Not only do colors have a nice punchy tone to them, but their viewing angles seem to deliver crisp results even at extreme angles. As we mentioned earlier, the notch on the iPhone X is indeed more pronounced, whereas with the G7 ThinQ, it's a little bit narrower and also can be adjusted to make it appear as though it's not there. LG mentions that the G7 ThinQ's display can achieve a peak brightness level of 1000 nits, which while impressive, we're eager to test it out in our benchmark testing.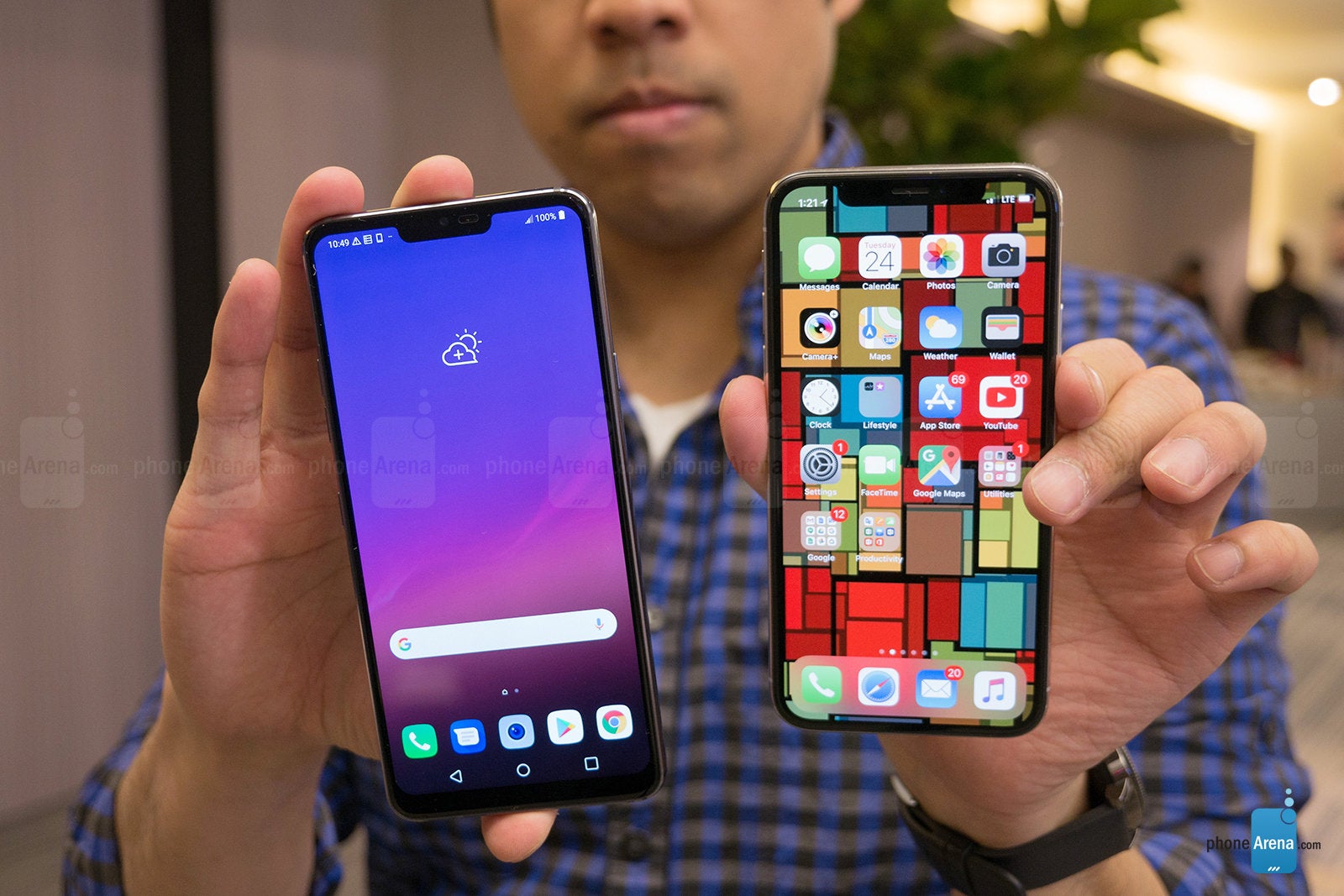 User Interface
The age-old comparison between Android and iOS continues to exist in this comparison, but for the most part, LG's subtle customization does cough up some useful functions. At the core, the software we're seeing running that's based on Android 8.0 Oreo has all the necessities we're accustomed to seeing. The iPhone X for the most part matches those basic functions, with more emphasis of having a straightforward experience. With the G7 ThinQ, it's all about the artificial intelligence integration, which is an area where it clearly has an advantage over its rival. So far, it's mostly related to the camera, voice integration, and home appliances.
When it comes to processing power, it appears as though the two are equipped to handle even the most intensive stuff. For the iPhone X, it's powered by the A11 Bionic chipset, which as we all know, runs exceptionally flawless for all applications. From what we're able to see so far with the LG G7 ThinQ, its Qualcomm Snapdragon 845 SoC coupled with 4GB of RAM suffices for all the usual customary stuff, but we're confident it'll handle gaming as good as its rival. Then again, we do appreciate that the G6 ThinQ is accompanied with a microSD card slot, which helps to supplement its base 64GB internal storage.
Camera
Dual cameras are no longer surprises in the greater scheme of things, especially considering it's become the norm – so it only makes sense to find these two armed with them. For the iPhone X, it's slapped with a pair of 12MP cameras with OIS, with the two of them breaking down to a wide-angle f/1.8 lens and a telephoto f/2.4 one. Meanwhile, LG has upgraded the hardware in its new flagship with a pair of 16MP sensors broken down to a 71-degree f/1.6 lens and a wide-angle 107-degree f/1.9 one.
With the two of them, they're able to capture those creamy looking bokeh portrait shots that can make anyone seem like a professional in how they're able to separate the subject and background. However, camera aficionados will undoubtedly appreciate the vast manual controls and that wide-angle lens for some sweet compositions you really can't achieve with the iPhone X. Over on the video side, too, it seems as though the G7 ThinQ has an edge with its extensive controls and Cine modes. And lastly, the AI integration with the G7 ThinQ allows the camera to adjust to the scene to yield the best results.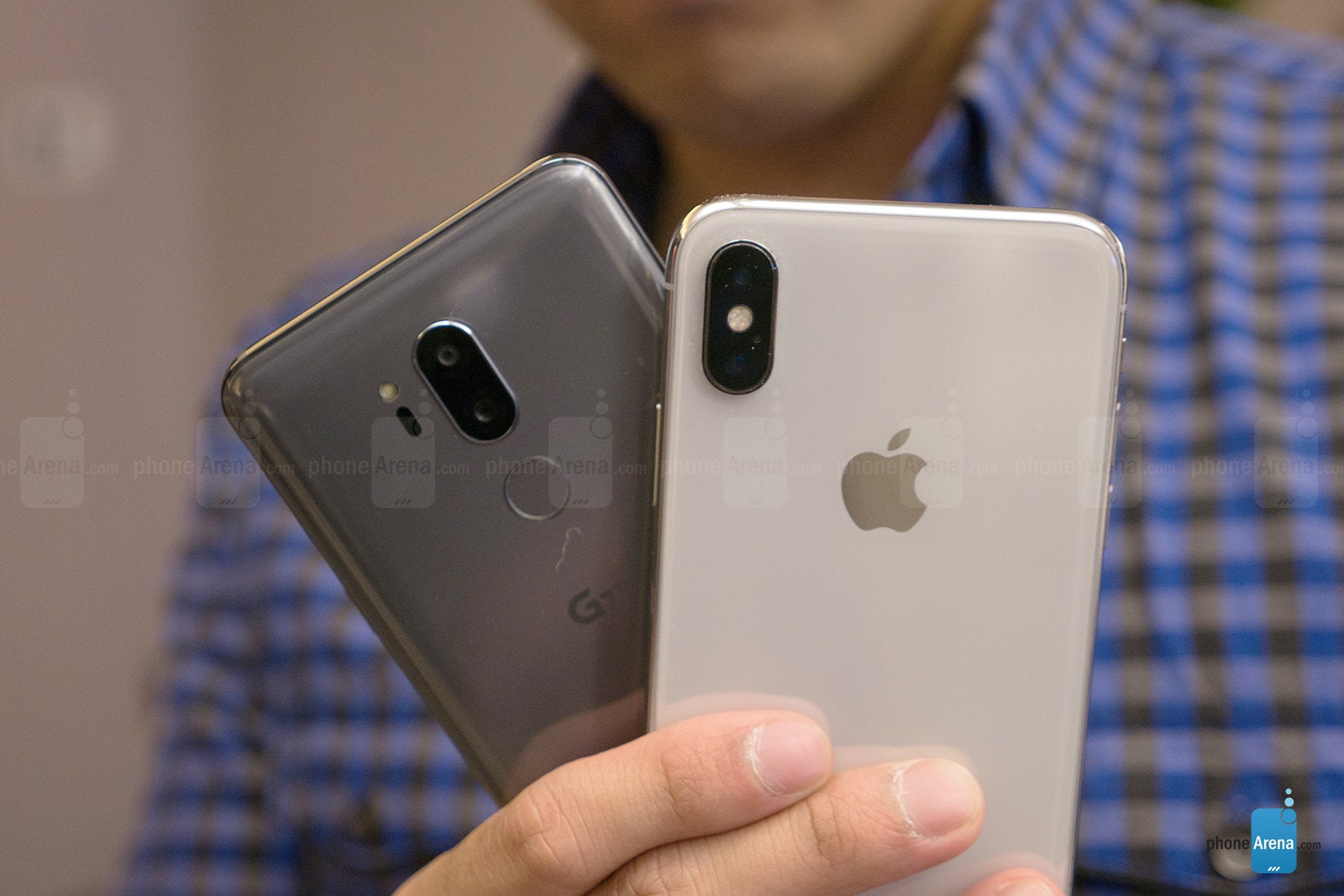 Battery
Battery specs don't typically hold a lot of value, unless one is significantly larger than the other. We can't say that's the situation present here, seeing that the LG G7 ThinQ and iPhone X respectively pack battery capacities of 3000 mAh and 2716 mAh. We know that the iPhone X's performance is pretty good, so we're hoping to find something at least equivalent with the new G7 ThinQ. Fortunately for the two of these smartphones, they're both equipped with the convenience of wireless charging – something that's increasingly becoming a staple nowadays!
Expectations
The iPhone X's popularity is widely recognized, which isn't too surprising to know that it's one of the smartphones out there that can rack up solid sales – despite its hefty cost. Speaking of cost, LG has been mum about the pricing for its upcoming G7 ThinQ, reserving that honor to its carrier partners. Then again, we can only imagine that the G7 will follow in similar fashion to other recent Android smartphones. We're betting that it's going to come in somewhere around $700 and $800, which should be an advantage over the $1,000+ cost for the iPhone X.
LG's flagship might've borrowed one of the iPhone X's design quirks, but at least it's subdued enough to not make it a distraction. On top of that, they've really tweaked the camera and software experience with AI integration to really give it a slight upper hand in those areas against the iPhone X. We know Apple's pride and joy continues to pride itself on a smartphone that satisfies all of our basic needs without overcomplicating things. If the G7 ThinQ can match the iPhone X's performance in each department, it could prove to be a formidable opponent for those looking for their next smartphone!