LG G3 vs Samsung Galaxy S5: first look
51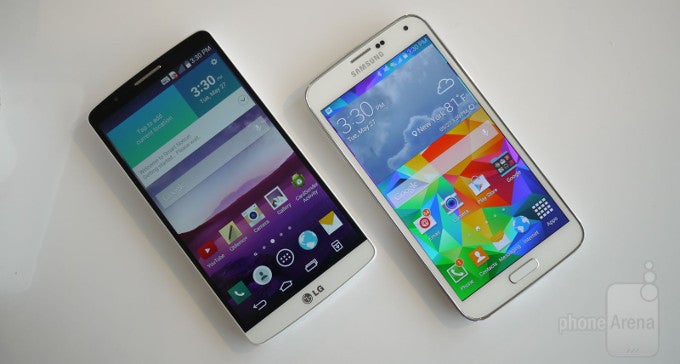 Between the big Android four -- Samsung, Sony, LG, and HTC -- LG's new flagship in the G3 arrives last at the stage. The company's new top shelfer is chock-full with features and, unsurprisingly at this point, offers the best available hardware. But in one regard, it exceeds what the rest were able to bring to market, and LG is sure to exploit that perceived advantage as much as humanly possible in order to gain consumers' hard-earned bucks. Namely, the 5.5-inch IPS panel on the G3 comes with the massively-detailed, 1440 x 2560 pixel resolution, which works out to 538 pixels per inch.
Is that, along with the rest of the G3 package enough of to shake the throne of the consumers' favorite in the Samsung's Galaxy S5? The two neighboring companies sure have been neck-and-neck this past year in terms of their offerings, but definitely not in terms of sales. Is the G3 LG's game-changer, then? It's definitely looking strong, and in some regards seemingly one-ups the Galaxy S5. Let's take a preliminary look.
Design
When it comes to most Android handsets, plastic is the name of the game. The all-new G3 and S5 are no exception to that rule, unfortunately, though both companies have, in their own way, tried to get the best out of the otherwise very practical material. To that end, the G3's arc-like body has a metallic-looking, matte texture that confuses the eye but not the touch, while the S5 sports a dotted pattern on its back, that still kind of reminds us of leather.
We're not nearly through with the differences between the handsets, though. For example, despite its notably smaller, 5.1-inch display, the water- and dust-proofed body of the Galaxy S5 measures in at the comparatively bulky 142 x 72.5 x 8.1 mm, and weighs 145 grams. In contrast, the 5.5-inch G3 body measures in at 146.3 x 74.6 x 8.9 mm, and tips the scale at 149 grams. In other words, the difference between the two devices is not as major as the difference between their screens would suggest.
Also different is the two companies' approach to the essential navigation, power, and volume buttons. With the G3, you have the now signature set of rear-placed volume rocker and power key, and on-screen navigation keys, while the S5 makes use of a physical volume rocker on its left side, a power button on its right, and a physical home button (that doubles up as a fingerprint scanner) on its bottom bezel, which is surrounded by capacitive buttons for navigation.
Display
We've already talked about the comparatively compact footprint of the LG G3, despite its 5.5-inch glass, but that's not the only seeming advantage it has over the S5. The LG-made IPS panel in questions boasts the amazing 1440 x 2560 pixel resolution (QHD), good for 538 pixels per every inch of the screen. LG also claims that the unit in question is 100% true to the sRGB color space, meaning that it can, theoretically, reproduce every color in it with a very high level of fidelity.
In comparison, the 5.1-inch Super AMOLED screen on the Galaxy S5 appears inferior. Its 1080 x 1920 pixel resolution (FHD) is nothing to sneeze at, but it's no longer the hottest thing in town, and results in 'just' 432 pixels per inch. What's more, even though we still have no data to support LG's claim of uncompromising color accuracy, we know for a fact that, even in the best scenario, the S5's panel offers highly saturated colors that are very attractive, but, ultimately, incorrect.
Of course, LG's panel also leaves room for doubt in another and quite important aspect: can we truly perceive the difference in sharpness at that level of fine detail? That's a good question, and while our initial opinion was is "no" -- you can't really perceive that much of a difference from a normal viewing distance -- the panel does appear sharper than the 1080p unit on the S5, at least in terms of text legibility.
Interface and functionality
Like Samsung, LG also took it upon itself to update the looks and feel of its proprietary Optimus UI with the G3 (now apparently dubbed simply LG UI). The new overlay is now decidedly flat, and is honestly just more attractive than ever before. To accommodate the sharper screen, all icons and graphics from the new overlay are extremely high-resolution, though that does make them clash a bit with your typical, third-party app icons (which are still stuck at 1080p).
In terms of functionality, LG highlighted three main differentiating features that it hopes will set the G3 apart from the herd. The first from those, and perhaps most intriguing, is Smart Notice -- a sort of a context-aware personal assistant with natural language capabilities. In layman's terms, this simply means that Smart Notice can serve you with suggestions and reminders before you need them -- it can remind you to pick an umbrella on the way out if rain is expected, and will also prompt you to call back contacts that you have missed calls from. Moving on, second and third on the list are LG's proprietary Smart Keyboard (learns from your typing habits) and Smart Security, which is a set of 3 features - Knock Code, Content Lock, and Kill Switch. The first of those allows you to create a pattern of taps to unlock your screen, while the second lets you hide certain sensitive content from prying eyes. As for Kill Switch, it literally is what it says it is -- you can remotely disable and completely wipe the contents of the G3.
Turning our eyes to the Galaxy S5, the refreshed TouchWiz interface is also looking better than ever, though the clutter in terms of the tens of different options and features is just overwhelming -- memorizing even half of it is a challenging task. Obviously, this signature Samsung approach appears to be working, though, as consumers flock to the company's devices like no other.
The S5 offers several highlights in this category, like the embedded heart rate monitor, the somewhat reliably fingerprint scanner, and goodies like Download Booster, which allows you to merge your LTE and Wi-Fi speeds when downloading larger files. Also interesting is the Galaxy S5's Ultra Power Saving Mode, which has the option to turn the screen completely monochrome in order to further squeeze life out of the handset's removable juicer.
Processor and memory
Depending on which version of the LG G3 you pick, you either have a tie with the S5 in terms of processing power, or a slight advantage. That's because, in a move that is mostly typical with Chinese manufacturers, LG is making two models available -- one with 16GB of on-board storage and 2GB of RAM, and another with 32GB of storage and 3GB of RAM (though, for the time being, it would appear that latter one is reserved for the local South Korean market). Both versions will come powered by Qualcomm's very best in the 2.5GHz, quad-core Snapdragon 801 (MSM8974-AC).
The Samsung Galaxy S5 paints a very similar picture. It's got the same bin of the Snapdragon 801 chip, and 2GB of RAM. And while the latter configuration of the G3 has a slight advantage over it, you shouldn't underestimate the performance tow that super-crisp display will exact. Said in simpler words, more pixels means more sweat for the chipset.
Lastly, since many of you do care about memory expansion, rest assured that underneath the removable backs of the two devices resides a microSD card slot that will take up to 128 gigs extra.
Camera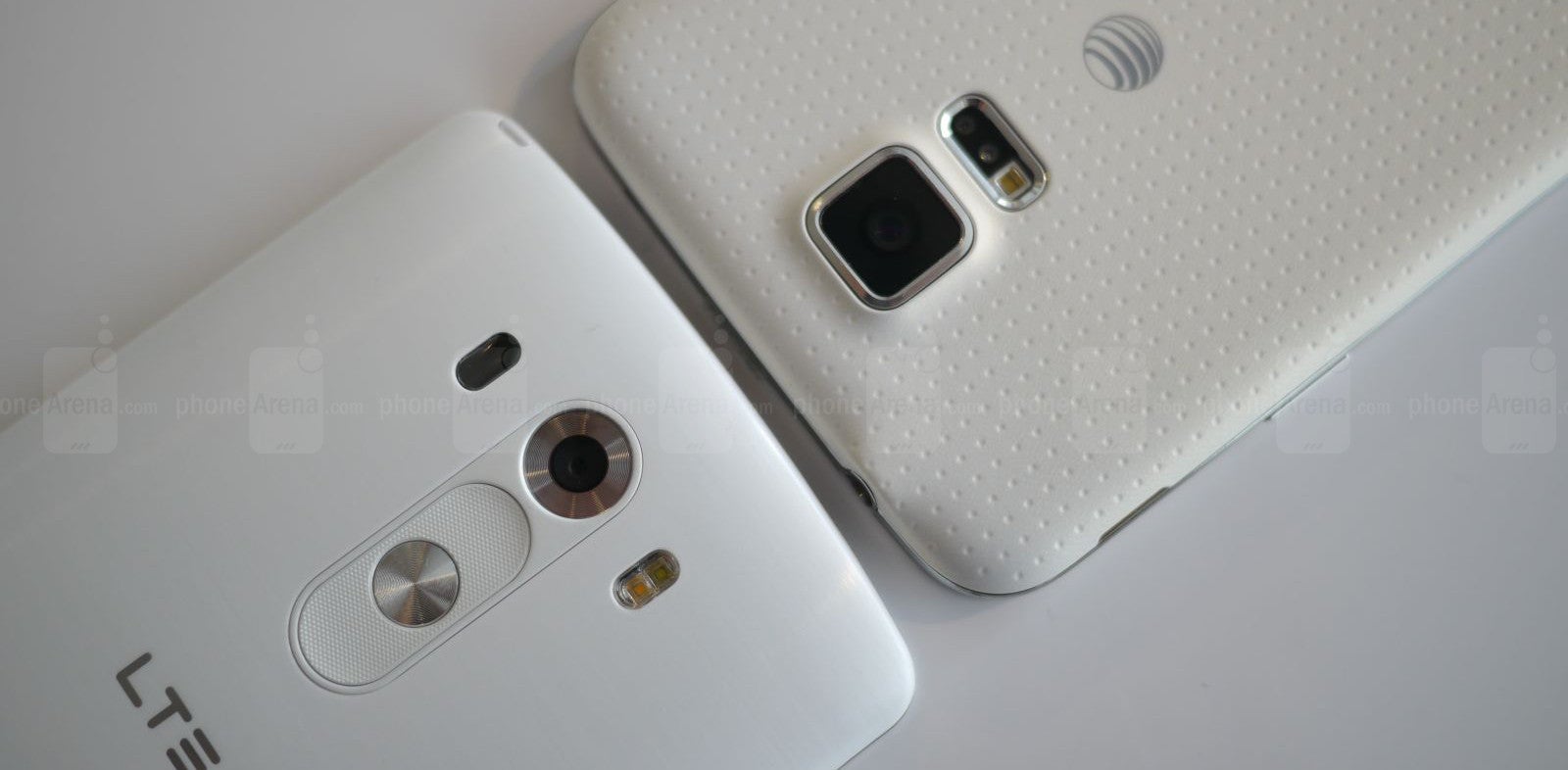 Looking at the specs sheets of the G3 and the S5, it's safe to say that we have two very exciting camera configs at our hands.
Starting off with the former, LG has outfitted its new flagship with a 13-megapixel, f/2.0 aperture sensor, and the unit boasts a two-tone, dual LED flash, along with a unique laser beam that will assist with auto focusing times and reliability, even in dark environments. The shooter is also optically stabilized, and makes use of LG's improved OIS+ tech that debuted with the G Pro 2 earlier this year.
In the opposite corner, we have Samsung's tried and tested 16-megapixel snapper with a single LED flash. The 1/2.6'' ISOCELL sensor of the unit has a wide, f/2.2 aperture, allowing it to capture a healthy amount of light. Unlike LG, Samsung hasn't gone down the optical image stabilization path, though, for videos at least, its software stabilization proved quite capable in our tests. Of course, that's not the only advantage OIS brings to the table -- it also, theoretically, allows for faster shutter speeds, especially in low lit environments where a snapper will usually need a long enough exposure time to capture sufficient light. Problem is, even relatively small tremors in your hand can cause blur then -- an issue that OIS compensates for.
Looking at preliminary samples, we were very pleasantly surprised by kind of image quality produced by the G3's snap, even next to the S5's corresponding ones. In fact, at a first glance, we could definitely tell that the OIS module in the G3 is pulling its weight, as the S5's samples look blurry in comparison. Moreover, the G3 delivers punchier colors than the S5, though we'd definitely like some more time with the two shooters in order to arrive at a verdict.
In terms of video capture, both devices can shoot 1080p clips at 30 and 60 frames per seconds. The two flagships also offer super-detailed, 4K resolution video capture, along with 120 frames per second slow-mo clips at 720p resolution.
Expectations
Like it or not, Samsung got to market first, and the Galaxy S5 has reaped amazing sales already. The overall reliability and legacy of the S-line, along with the monstrous marketing and distribution machine that Samsung represents, allowed the company to put its handset in the hands of over 10 million customers according to some accounts. That's 10 million smartphone buyers that LG will have a hard time capturing, not to mention that it simply can not, for the time being, match Samsung toe-to-toe when it comes to advertising and having its flagship available in just about every corner of the earth.
But that shouldn't matter to you. There's no denying that the LG G3 is looking very strong indeed, and in some ways has an advantage over the Galaxy S5. As always, however, before we can recommend it over as polished a device as the S5, we'll be first wanting to put a review unit through its paces.