LG G2 mini retail price revealed ahead of launch in April
20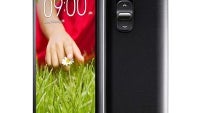 The
LG G2 mini
is exactly what you would expect of compacted flagships nowadays (except for the Sony Xperia Z1 Compact), they are the "mini-me" of the flagships, except there are generally compromises galore with the hardware specs, detuned processor, less RAM, lower resolution screen, and a smaller camera sensor.
However, for the compromise, there is usually a significantly smaller price tag to accompany the smaller phone. For example, the HTC One mini with AT&T retails for $375; the Samsung Galaxy S4 mini retails for $400 with Sprint. An unlocked Motorola Moto G with 16GB is just $200.
The LG G2 mini
will begin its rollout
in April through Europe, parts of Asia, Latin America and the Middle East. Unfortunately, it is not looking like it will be as much of a bargain as its other mini-brethren. In Europe, you can expect to see a retail price of €350 ($480, £290).
Based on the prices appearing on Amazon Germany, Amazon Spain, that price includes the value-added taxes that Europeans subject themselves to. What we do not know is if this is just an inflated price hoping to greet a high demand with the possibility that it will go down in the future.
There are three different versions of the LG G2 mini, depending on the market it is available. The first has a quad-core 1.2GHz Qualcomm Snapdragon CPU with Adreno 305 GPU, LTE, NFC and 8MP main camera. There will be a dual-SIM, 3G-only version with the same CPU (different modem) and GPU, same camera, but no NFC. The third version will have an Nvidia Tegra 4i quad-core CPU clocked at 1.7GHz, LTE, 13MP camera and no NFC.
Specifications aside, the LG G2 mini does not have price working in its favor, but the Optimus UI along with the KnockON code feature may appeal to some users. If you happen to be in one of the target markets, is the LG G2 mini in your future?
sources:
Fudzilla
via
GSMArena