Kyocera Echo gets new challenger; Imerj and Frog reveal dual-screen Android prototype
10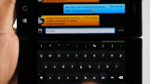 The guys at Engadget got their hands on a
prototype
dual-screen Android device
made by Imerj and Frog. The two 4 inch AMOLED screens come together with the help of a simple hinge. No complex design here and maybe that's why it works. Under the hood is a dual-core processor of unknown speed and Gingerbread is powering the show. The device has 32GB of storage that might go up to 128GB in future models, and a 5MP camera that works as both a
front
and
rear
facing camera.
According to Engadget, this device is
sturdier
than the Kyocera Echo and the software seems to have a
better looking UI
than the Echo as well as offering up some gesture-driven navigation similar to webOS. Check out the video below to see more about this
intriguing handset
. We have no idea if this dual-screen dandy is heading to the States, but if it does, it could overtake the Kyocera Echo on the double.
source:
Engadget