Kuo: Apple's iPhone 6s will not beat the holiday season sales record set by the iPhone 6 lineup
98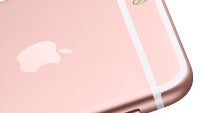 As far as Apple analysts are concerned, Ming-Chi Kuo from KGI Securities has the reputation of being more accurate than most when it comes to predictions and estimates. In a recent note to investors, Kuo says that Apple's iPhone 6s series is not likely to beat the Q4 sales record set by Apple last year with the iPhone 6 generation.
Back in Q4 2014, Apple set a new record by selling 74.5 million iPhones, mostly iPhone 6 and iPhone 6 Plus units. According to Kuo's estimates, Apple will sell between 70 and 75 million iPhones during the 2015 holiday shopping season, meaning that we're likely to witness a drop in year-over-year shipments.
From the looks of it, the iPhone 6s was off to a better start than the previous generation. Kuo says that Apple will most likely announce a year-over-year increase in shipments during Q3, providing an estimate of +23.6% to 48.5 million units. Furthermore, the analyst estimates that Apple shipped somewhere between 20 to 22 million handsets from the iPhone 6s generation, up from the 14-15 million iPhone 6 handsets that Apple is believed to have shipped in Q3 2014. If Kuo is to be believed, however, Apple's decision to include China in the first-tier launch markets is the primary driver for Q3 iPhone shipments, and not a more acute interest from the average customer.
Looking into the future, Kuo says that his firm expects Apple to report a year-over-year decline in shipments in the first quarter of 2016, which would be a first for the company. Note that this isn't the first time that we've heard analysts forecasting that the iPhone 6s generation will not sell as well as the precedent iPhones. According to some rumors, Apple has already reduced component orders faced with
weaker-than-expected sales in the week following the launch
.
Other Apple products are not expected to fare any better in the upcoming quarters. According to Kuo, KGI Securities expects to see a continued decline in both iPad and Mac shipments. Speaking of iPads, the analyst mentions that his company now expects Apple to sell only about 2 million units of the iPad Pro model, down from the company's previous forecast of 4-5 million units. The reason behind KGI's reduced iPad Pro shipping estimates is that Sharp, the company tasked to manufacture the 12.9-inch display on the iPad Pro, is allegedly facing yield issues at the moment.