King insults in a text message can land you jail sentence in Thailand
12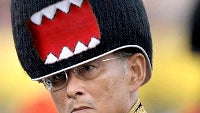 King Bhumibol Adulyadej is a very, very important persona, and the richest royalty in the world with $30 billion net worth. So much so, that offending him or the surrounding family is considered a crime in Thailand, and can land you a jail sentence.
Hey, 19th century called and wants its governance regime back, was probably what 61 year old Ampon Tangnoppakul thought when he was given 5 years in jail for each text message sent with allegedly offensive for the royal family content. There were four messages sent to a government official, and the grand total of jail time for the ex-truck driver now stands at 20 years.
His lawyer argued that the defendant doesn't even know how to send a text message, his phone was being repaired at the time and other spin doctoring, but the court didn't budge and upheld the 20 year sentence.
Considering the natural disaster that is currently devastating Thailand, one would think its people would be more exempt from archaic laws about saying something in a text message. Mr Ampon himself couldn't go to the hearing for its jail sentence, because the prison he is held at currently is surrounded by flood waters, and was read the verdict via a video link.
source:
NYT