Kindle Fire HDX 7 vs Nexus 7 (2013) vs Apple iPad mini
24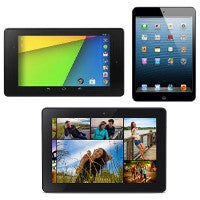 For years now,each new entrant into the mobile arena has had to go through a sortof a rite of passage ritual, regardless of whether its creatorsbelieve it deserves recognition solely by virtue of the brand it represents.Today, it's truth time for Amazon'sbrand new Kindle Fire HDX 7 for we're putting the new slate tothe test. In the two opposite corners we have two already establishedpieces of hardware that need no introduction – Google's ASUS-builtNexus 7 2013 and Apple's iPad mini.
Let's take a look.
Design
If anything, it'sundeniable that Amazon has been hard at work – our first impressionof the new design of the trio of Kindle tablets that the company introduced earlier today is quite positive:it's sleek and industrial-looking, asserting a sense of quality. A level of quality of the reassuring kind, however, is nothing more than thesanitary minimum, considering Amazon wants to join the big league –the level of quality you'll find with the Nexus 7, and especially theiPad mini is outstanding. What's more, while we're at the topic ofdesign, it's probably worth nothing that the iPad mini is the clearwinner in our eyes, with the two Android slates wrenching for thesecond spot – that one is too close to call.
But looks aren'tthe only defining quality of design. Amazon is showcasing just that,having put the HDX 7 through some much needed dieting, which hasresulted in slimmer bezels, though there's still a long way to go.Despite all of this, the HDX 7 is still the thickest tablet of thetrio, though it has dropped some weight and is now down to 311grams, pretty close to the iPad mini's 312 grams and even the Nexus7's 299 grams.
Anothernoteworthy consideration that you should keep in mind if you're inthe market for a compact tablet is that Amazon has gone the path ofLG and put the power/volume buttons on the back of the device. Thismay not sound optimal to people who are used to the way things are,but do keep in mind that despite its relatively smallish dimensions,you'll be mostly holding the HDX 7 with two hands, which should makeworking the rear buttons easier.
Display
Whereas usuallywe have things such as pocketability to consider when examining theease of use of smartphones, this doesn't really hold as muchrelevance to the tablet category, even with our relativelycompact tabs. With that in mind, it's usually pixel density anddisplay tech that decide the winner, if one can be cast at all. In thisregard, there's a clear divide within our contestants – both theHDX 7 and the Nexus 7 have an amazingly detailed and vivid screens, thanksto the 1920x1200 resolution (323 ppi) they feature. It's been almosta full year since the iPad mini was launched, and it's starting toshow its age – its screen is larger, at 7.9-inches, butconsiderably less detailed with a resolution of 1024x768, or 162 ppi.
What's more, thedisplay on the 7-inch HDX 7 has been a point of pride for Amazon,because it incorporates some pretty interesting tech that allows fora dynamic adjustment of contrast settings when in brightenvironments. This means that whenever there's too much light, threatening to overpower even dark spots, the display will react by making blacks ever more pronounced, at least on paper.
Taking the abovein consideration, we think it's a split between the HDX 7 and theNexus 7, with the larger iPad mini grabbing the bronze – anevertheless very acceptable display, perfect for those looking formore real state.
Brains
As is the way ofAndroid, the HDX 7 and the Nexus 7 are both packing some greathardware, while the iPad mini is making ends meet with a much moreconservative specs sheet that just works, in a typical iOS fashion.Having said that, there's no contest in who takes the gold in thehardware department, as the Kindle Fire HDX 7 comes sportingQualcomm's latest and greatest quad-core Snapdragon 800, whereas theNexus 7 is using the now slightly aged Snapdragon S4 and the iPad mini theApple A5 SoC which is now getting really old in high-tech years.
In terms ofmemory, both the HDX 7 and the Nexus 7 come with 2GB of RAM, whilst the iPad mini has to make do with just 512MB. Severalversions of the tablets ensure that you can pick the amount ofstorage that suits you – 16GB, 32GB or 64GB, with the exception ofthe Nexus, which only comes in a 16GB/32GB flavor. None of the tablets has an option to expand that via a microSD card.
And the winner is...
Pitting thesetablets is only meaningful up to a certain point. Once we exhaustfacts, it becomes near impossible to navigate through the jungle of subjectiveand less clearly-cut aspects of the total package that makes anexperience bad, good or great. Each of these tablets has some prettycompelling reasons to deserve your hard-earned cash, of course, but also a relatively major trade-off.
Starting at $229,with the Amazon Kindle Fire HDX 7 you have a very affordablepowerhouse of a tablet with a refined design that many of youwill enjoy, including value-added services specific to its forkedversion of Android 4.2.2 Jelly Bean called Fire OS 3.0. Thetrade-off, as many of you will be quick to point out, is that you'renot getting the coveted pure Android experience, and this may be adeal breaker for some.
With the Nexus 7,we have a story pretty similar to that of Amazon's trooper. It'scompact, affordable, and despite it's less-potent chipset, it's stillvery well suited to tend to your every need. It's priced identicallyto the HDX 7, starting at $229 for the 16GB version, and it comeswith a snappy stock Android, meaning quick updates and nomambo-jumbo. This, apart from design considerations, pretty muchnarrows down your choice down to more power versus an arguably betterAndroid experience. Your call.
The iPad mini isidentical to the above in the sense that there are trade-offs, though arguably more of those, in comparison to the Android boys. The tabletis now showing its age, and some of you may say that you're notgetting the best bang for your buck. That's valid for many, though ifyou insist on the iOS experience, then the iPad mini won't disappointeven a year later. Do keep in mind that it's by far the priciest ofthe bunch, with a price tag starting at $329 for the 16GB, not tomention that we're expecting a new version of the mini fairly soon.

DESIGN






Device type
Tablet
Tablet
Tablet
OS
Android (4.2.2) Fire OS 3.0 UI
Android (4.3)
iOS (6.1, 6)
Dimensions
7.32 x 5.04 x 0.35 inches (186 x 128 x 9.0 mm)
7.87 x 4.49 x 0.34 inches (200 x 114 x 8.65 mm)
7.87 x 5.30 x 0.28 inches (200 x 134.7 x 7.2 mm)
Weight

the

average

is 17.4 oz (496 g)
10.97 oz (311 g)

the

average

is 17.4 oz (496 g)
10.55 oz (299 g)

the

average

is 17.4 oz (496 g)
11.01 oz (312 g)
Colors
Black
Black, White
| DISPLAY | | | |
| --- | --- | --- | --- |
| Physical size | | | |
| Resolution | | | |
| Pixel density | | | |
| Technology | LCD | IPS LCD | IPS LCD |
| Peak brightness | 400 cd/m2 (nit) | 300 cd/m2 (nit) | |
| Features | Light sensor | Light sensor, Scratch-resistant glass (Corning Gorilla Glass) | Light sensor |
| HARDWARE | | | |
| --- | --- | --- | --- |
| System chip | QualComm Snapdragon 800 | Qualcomm Snapdragon S4 Pro APQ8064 | Apple A5 |
| Processor | | | |
| Graphics processor | Adreno 330 | Adreno 320 | PowerVR SGX543MP2 |
| System memory | | | |
| Built-in storage | 16 GB | 32 GB | 16 GB |
| Maximum User Storage | 8.8 GB | | |
| CAMERA | | | |
| --- | --- | --- | --- |
| Camera | | | |
| Aperture size | | | F2.4 |
| Features | | Auto focus | Back-illuminated sensor (BSI), Auto focus, Touch to focus, Digital image stabilization, Geo tagging |
| Camcorder | | 1920x1080 (1080p HD) | 1920x1080 (1080p HD) (30 fps) |
| Features | | | Digital image stabilization, Video calling |
| Front-facing camera | Yes | 1.2 megapixels | 1.2 megapixels |
| Video capture | 1280x720 (720p HD) | | 1280x720 (720p HD) |
| CONNECTIVITY | | | |
| --- | --- | --- | --- |
| Bluetooth | Yes | 4.0 | 4.0 |
| Wi-Fi | 802.11 a, b, g, n | 802.11 a, b, g, n, n 5GHz | 802.11 a, b, g, n, n 5GHz |
| USB | USB 2.0 | USB 2.0 | Yes |
| Connector | microUSB | microUSB | Proprietary |
| Features | Mass storage device, USB charging | Mass storage device, USB charging | USB charging |
| Headphones connector | 3.5mm | 3.5mm | 3.5mm |
| HDMI | | Yes | |
| Charging connector | microUSB | microUSB | Proprietary |
| Other | Tethering, Computer sync, OTA sync | NFC, Tethering, Computer sync, OTA sync | Computer sync, OTA sync |
| OTHER FEATURES | | | |
| --- | --- | --- | --- |
| Sensors | Accelerometer, Gyroscope | Accelerometer, Gyroscope, Compass | Accelerometer, Gyroscope, Compass |
| AVAILABILITY | | | |
| --- | --- | --- | --- |
| Officially announced | 25 Sep 2013 | 24 Jul 2013 | 23 Oct 2012 |
| Scheduled release | 18 Oct 2013 (Official) | | |