Kin 1 and Kin 2 just can't wait for Verizon's exclusivity period to end?
This article contains unofficial information.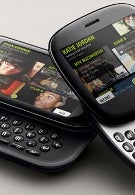 A ROM hacker known on the internet as Cornflipper was able to obtain an early version of the OS for Microsoft's Dynamic Duo, Kin 1 and Kin 2 (for some reason, we always think of Cat in the Hat's Thing One and Thing Two when we hear the pair's name) and published screenshots of the phones. After digging around the OS some more, he found some very interesting information. Despite an exclusivity period for both handsets for Verizon in the U.S., on the OS were provisioning files for other carriers. These files are pre-packaged bundles and in this situation, it looks like the files were pre-packaged to allow the Kin duo to make a quick and painless configuration to other carriers. The list of possible future homes for the Kin 1 and Kin 2 besides Verizon in the U.S. includes AT&T and T-Mobile in the States. Overseas carriers with provisioning files on the ROM include Vodafone (Spain, France, Portugal, Italy and U.K.), Germany's T-Mobile, O2 and Orange in the U.K., Softbank and DoCoMo in Japan and Telia and Three in Sweden. These could just be files left over from the days when Microsoft was shopping for a carrier and needed to show how the phones fared on different networks, or perhaps while Big Red gets the exclusive on the Kins, a slightly different version of the duo finds happiness on other networks using the same OS. What we do know is that for now, Kin 1 and Kin 2 belong to Verizon in the U.S on an exclusive basis with an expected launch date some time next month.
Microsoft Kin 1 Preliminary Specifications
Microsoft Kin 2 Preliminary Specifications
source:
MobileCrunch