Ketchapp's new endless runner, The Pit, is a test for skills... and sanity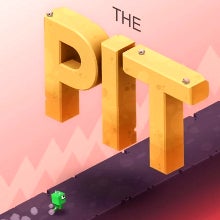 Ketchapp, the makers of SkyWard, Run Bird Run, Stick Hero and ZigZag, are in for a kill again, with an infinite runner called The Pit. As the name implies, there will be some pretty nasty mano-a-mano surprises down there that you have to duck, destroy, jump over, or simply evade on your way to... well, there is no end in sight but levels and levels of fun runs, jumps and somersaults.
You have goals, of course, like collecting gold on your way through, and trying to stay alive in the process. Holding down on the display lets you slide, and letting go will make your character jump over the horrors hurled at them. It is easy to time your jumps, as they are all of the same height. The further you progress, the tougher things become - if you see several spike strips in a tow that seem impossible to jump over, just try to land in-between them, and then conquer the rest. It gets pretty addictive, so give The Pit a shot if you are into endless runners.