Katamari Damacy returning to mobile as a 2D side-scroller
2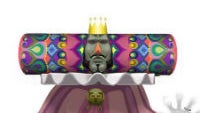 Katamari Damacy is... insane might be the best word to describe it. The game is about rolling a ball which picks up stuff to make the ball bigger so you can pick up bigger stuff (the end point of which is that you end up capturing things like clouds and Godzilla in your ball.) Add in weird characters and hyper-addictive music and it's hard not to love the game.
That said, the first attempt at a mobile Katamari game, I Love Katamari, was probably ported to phones a bit too soon (it first came out in December of 2008) and suffered from camera and control issues. Well, the prince and the King of all Cosmos are coming back to mobile with a new game called Tap My Katamari, but this time around the game will be a 2D side-scroller described as an "action puzzle game".
There's no word on when the game will drop, but the official trailer says it will be "coming soon" to both iOS and Android.