KFC lets you eat greasy chicken and still text without getting your phone dirty
17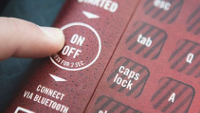 One thing about those delicious herbs and spices at KFC is that they make your hands greasy. So greasy, in fact, that no one wants to touch their smartphone after consuming some finger lickin' good chicken. But in Germany, KFC has the answer. Instead of lining the food trays with coupons or ads or worthless content, KFC passes out a disposable Bluetooth QWERTY keyboard. We kid you not.
Obviously, the disposable QWERTY allows you to keep your text conversation going even if your hands are dripping with enough grease and fat to fill the deep fryer. According to the company behind the keyboard, every single one was taken home after being used at the restaurant. The QWERTY is .4mm thick and is resistant to liquids. There is no word on whether we will see the disposable QWERTY make it to U.S. KFC locations.
Check out this technological marvel in action by clicking on the video below.
.
source: gutewerbung.net via TheVerge via Gizmodo